The Verve Magazine
From the Runways: Summer Color Palette
A quick look at Pantone color trends on the 2020 runways & how these colors can influence your wardrobe and style.
by Madeleine Baughn |
This bold color compels us to show passion and fierceness. Want to command the room? Symbolic of power and vigor, you will likely be turning heads. Reds like Flame Scarlet are said to influence people to make quick decisions. Flame Scarlet has an electric intensity to it, much more than the other shades of 2020. Flame Scarlet will exude your power and confidence while highlighting your femininity and sexuality.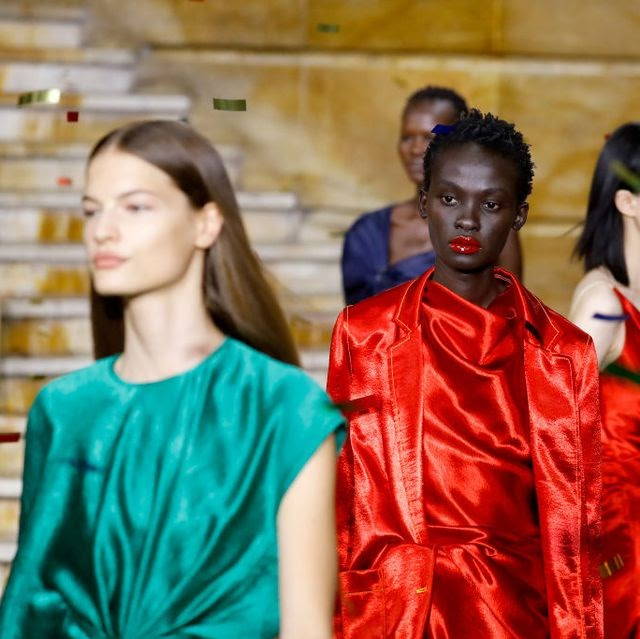 Photos courtesy of CR Fashion Book.
Not to be confused with saffron, which is a red spice, Pantone's Safron, is a limoncello hue with a turmeric infusion. Or more plainly, according to The Paris Review, mustard yellow. In an article, they describe Safron: "Mustard, the Color of Millennial Candidates, Problematic Lattes, and Aboriginal Paintings." This murky tone is a symbol of intellect but it also secretes enthusiasm and optimism. Yellow tones like Safron are said to relax, energize, and intrigue people around you. You can style this color to fit a bohemian or chic aesthetic. Safron is youthful yet mature and sophisticated.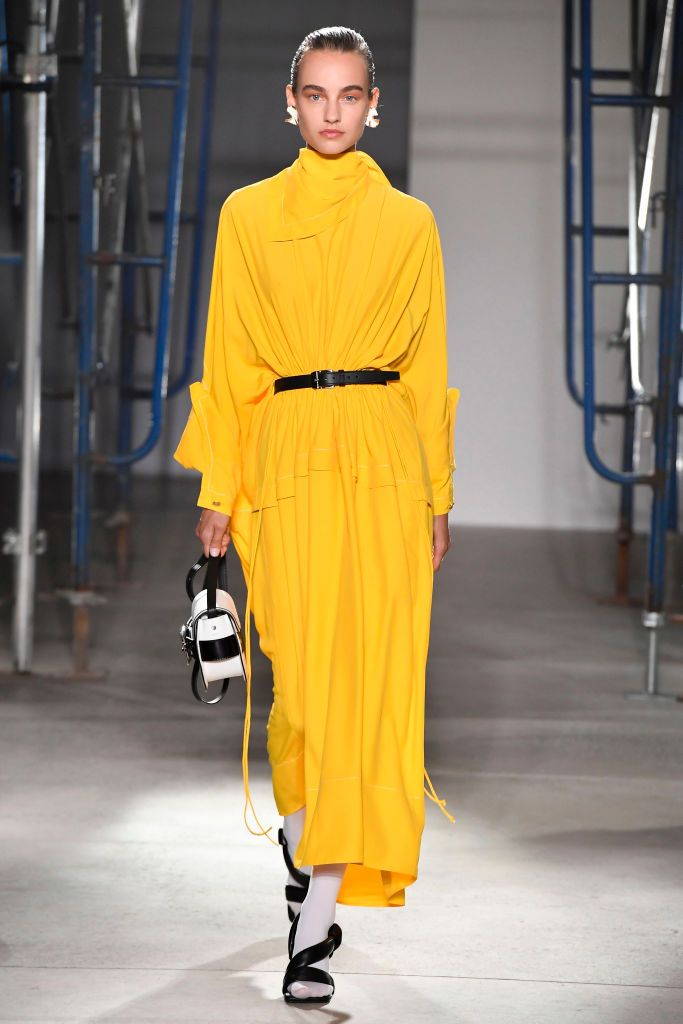 Pyer Moss 2020. Photography by Fernanda Calfat.
Classic Blue is deep, dependable, and confident. Deep like the ocean, this shade adds layers of wisdom and expertise to your style. Classic Blue is the color that paints you as stable, precise, and an expert in your field. Lighter shades of blue may signify tranquility, where Classic Blue emanates knowledge and power. However, in any shade, blue has a calming effect and can position you as a life-raft in any difficult situation. If you are dressing for an important business meeting, you can turn to Classic Blue as a reliable option. For more information about The Color Of The Year, check out this article.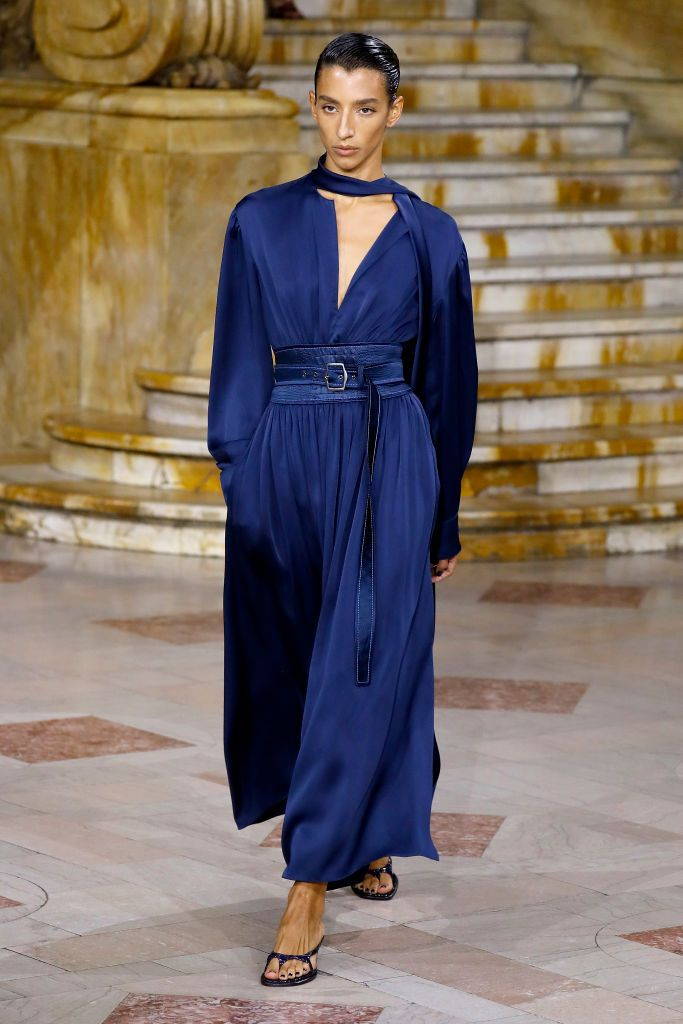 Sies Marjan 2020. Photography by JP YIM.
Biscay Green is the color of clarity. Refreshing like a pool, or the tropical waters of the Caribbean, Biscay Green is said to purify the mind and soul. This shade acts as an energy booster and can bring new life to a wardrobe. Because Biscay Green is a calming color, it may improve your interpersonal communication. It's also related to balance and concentration. This color is commonly paired with pastel pink and is a perfect addition to your Spring wardrobe.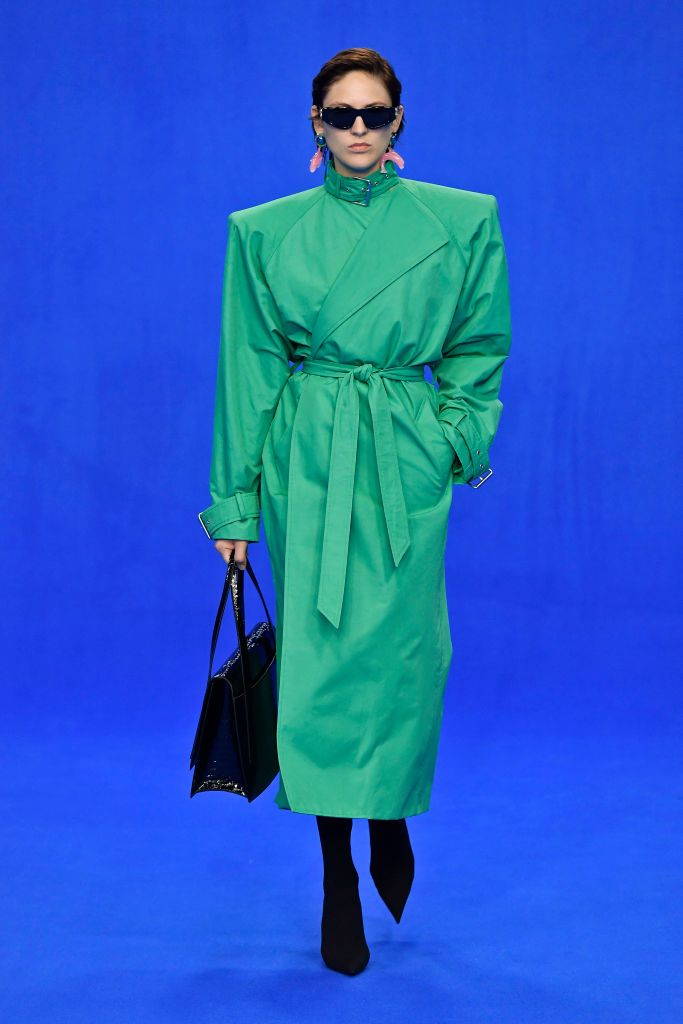 Balenciaga 2020. Photography by Victor Virgile.
Exquisitely complementary for an olive skin tone, Chive utters the words "natural beauty." This deep green is symbolic of growth, harmony, freshness, and fertility. Chive is revitalizing and has a healing essence associated with growth and abundance. You'll likely exude a natural richness in your demeanor with this tone. Some of our most favorite monochromatic looks are dressed in Chive. We expect Chive to be one of the most popular colors of 2020–outlasting your Spring/Summer palette and transition you into Fall 2020.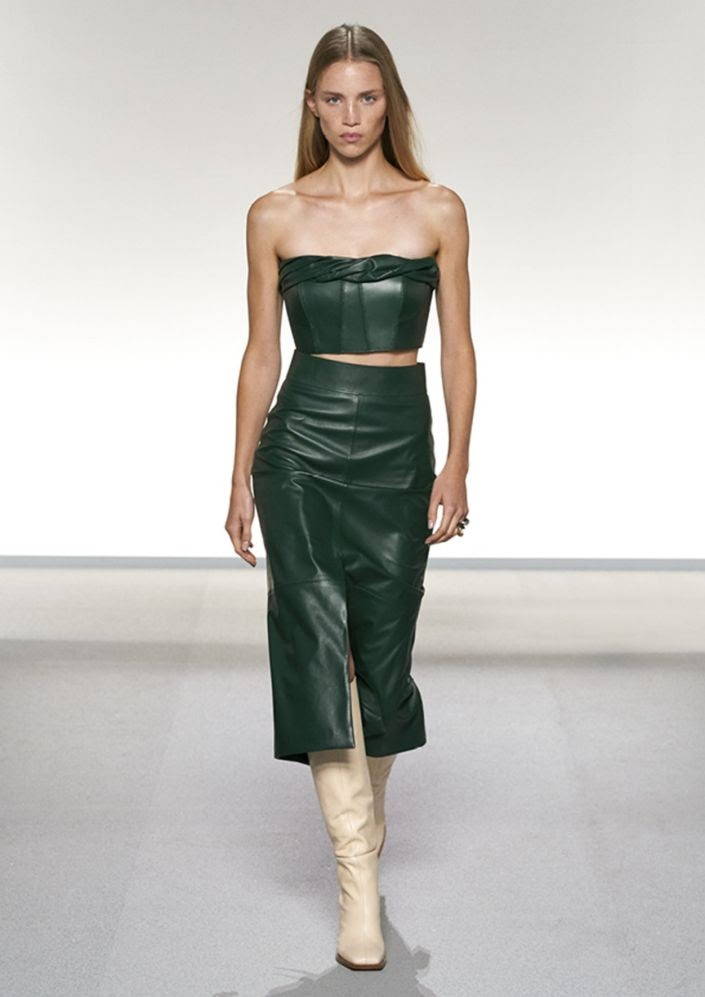 Faded Denim is a classic that evokes your easy-going nature. A light-hearted color, this shade is calming and comfortable. You'll appear approachable and kind in this hue. It doesn't call for too much attention. It's understated, simple, yet elegantly beautiful.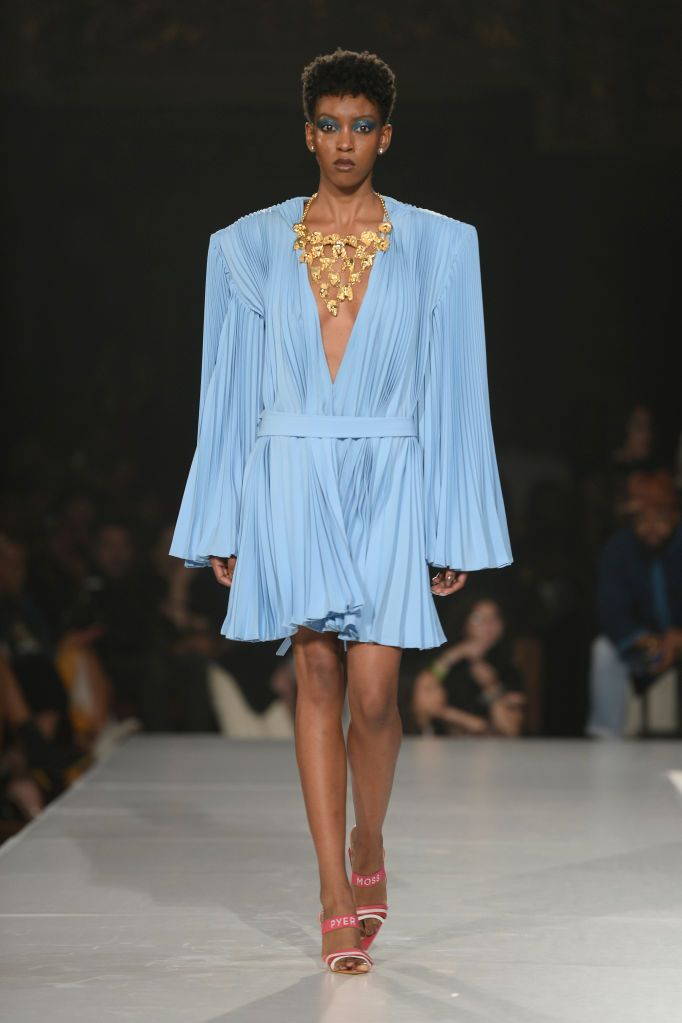 Pyer Moss 2020. Photography by Fernanda Calfat.
Sharp and vibrant, orange peel is a surge of vitamin C. Orange Peel is associated with youth and spontaneity. This color puts your creativity on full display and is an excellent choice for someone that works in the creative field of design, art, or fashion. Be an uplifting, stimulating presence in Orange Peel. Orange Peel works as a fantastic accent color through handbags or shoes but also thrives in base pieces like blouses and blazers. Orange Peel is a surge of joy in your wardrobe.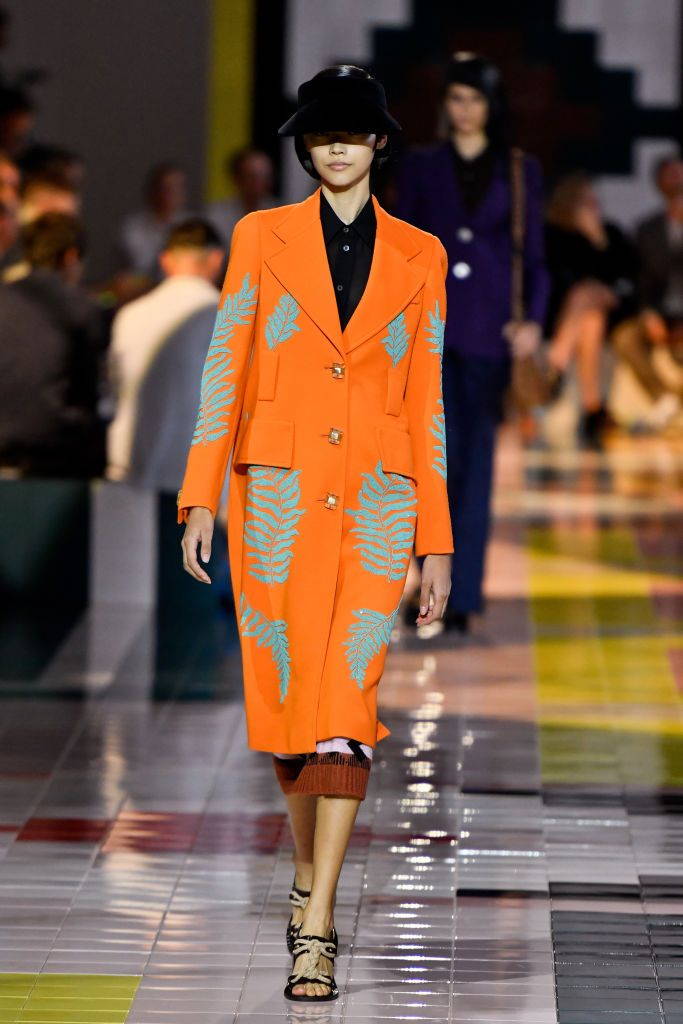 Prada 2020. Photography by Victor Virgile.
Deep and enigmatic, Mosaic Blue is awe-strikingly beautiful. This shade of blue will highlight your graceful, fashionable nature and make people want to learn more about you. An aura of mystery, you will intrigue everyone you meet in Mosaic Blue–and make a statement, without being overstated. Eye-catching, sophisticated, and soothing, Mosaic Blue is the type of color we want to mix and play with on a canvas–it never gets boring.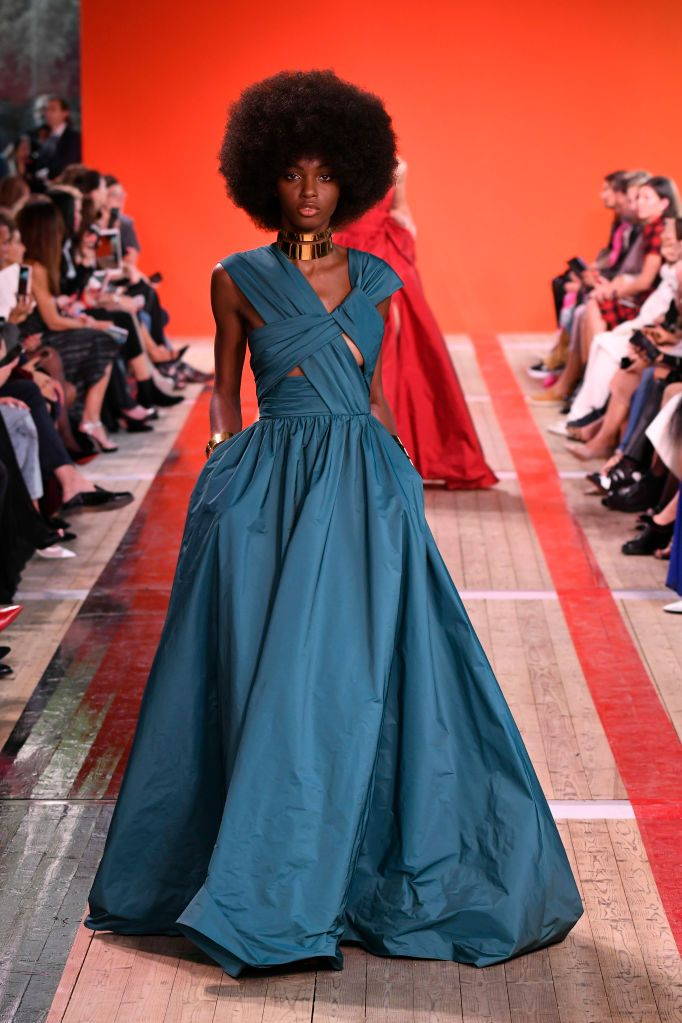 Elie Saab 2020. Photography by Victor Virgile.
Sunlight is light, cheerful, and soft on the eyes. This light yellow tone is silky and elegant. A romantic, yet innocent shade, Sunlight offers the promise of Summer and soft kisses. Nostalgic of 100% cotton shirts, daisies, ice cream stands, and the sweet Summer breeze, this shade is youthful and warm. However, dressed up, it can be mature, sexy, and elegant, too–reminiscent of Cameron Diaz in How To Lose A Guy in 10 Days where she debuted the icon little yellow dress in 2003.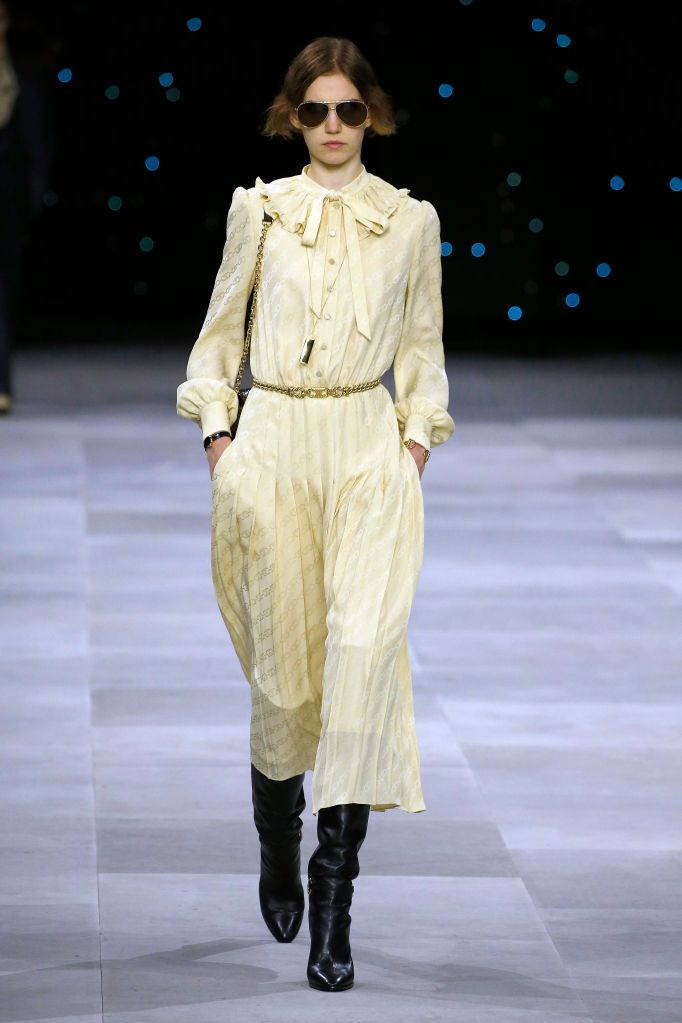 Celine 2020. Photography by Estrop.
Coral Pink is naturally playful. This feminine shade of pink is kind, and romantic but also has a twist of energy and spunk–especially if styled monochromatically. Coral Pink is said to be the gemstone of the sea and is an excellent way to how you feel about pink. A popular among Millenials, this shade is linked to sweetness and optimism. Coral Pink is the perfect brunch outfit color. A more mauvey, diluted take on last year's, Color of The Year, Living Coral, we don't see this shade going out of style anytime soon.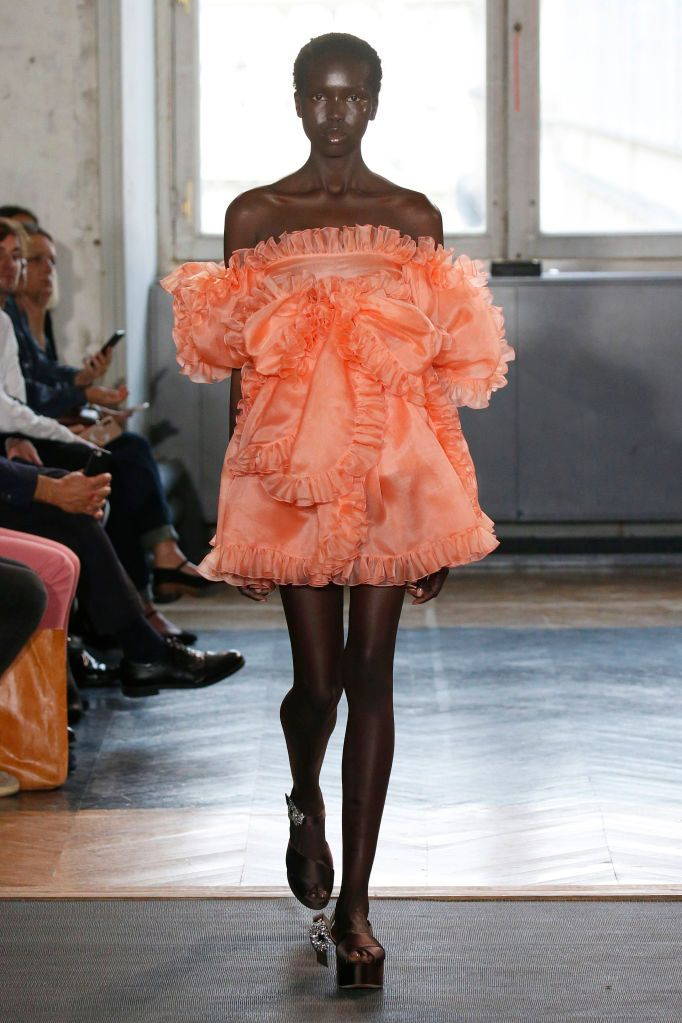 Giambattista Valli 2020. Photography by Estrop.
Spicy and earthy, Cinnamon Stick is deep like terracotta clay. Cinnamon Stick has depth and maturity associated with it. You'll look desirable, powerful, yet warm and natural in this mix of brownish-red. Create a model-like physique by matching your Cinnamon Stick outfit to your terracotta lipstick. This color will be popular all year round and be most popular in August and September as we head into the autumnal heat.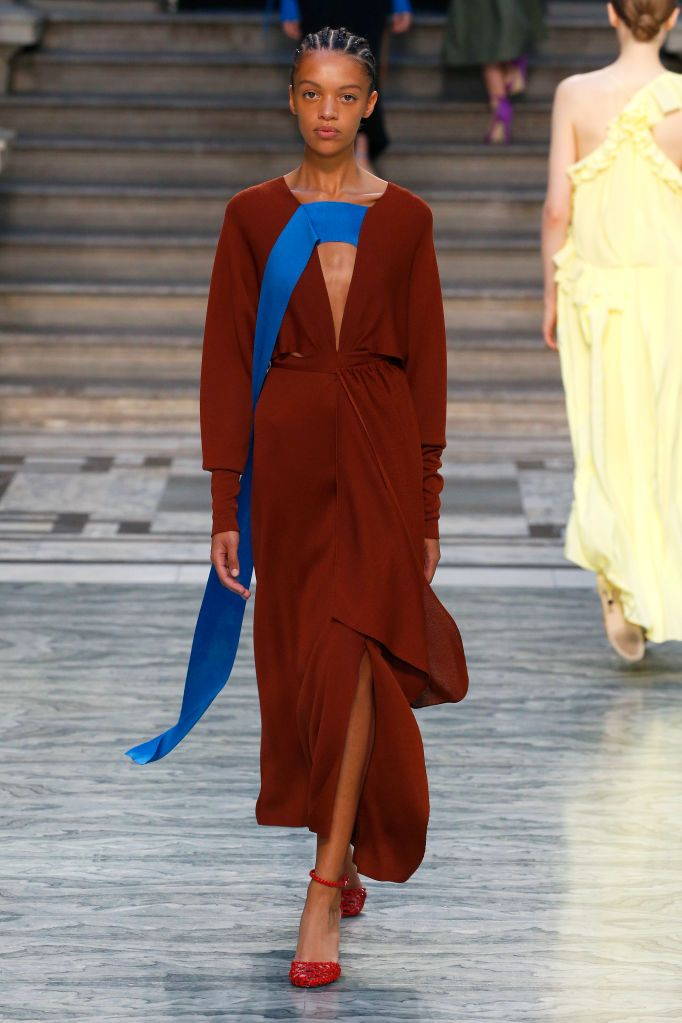 Victoria Beckham 2020. Photography by Estrop.
Grape Compote is delicious and regal, representative of medieval Europe, when royals began experimenting with desserts made of sugar and fruit. This dense color symbolizes power, ambition, and rareness. A spiritually strong color, you will have a divine presence when wearing Grape Compote. You'll also appear independent and mature in this profound hue.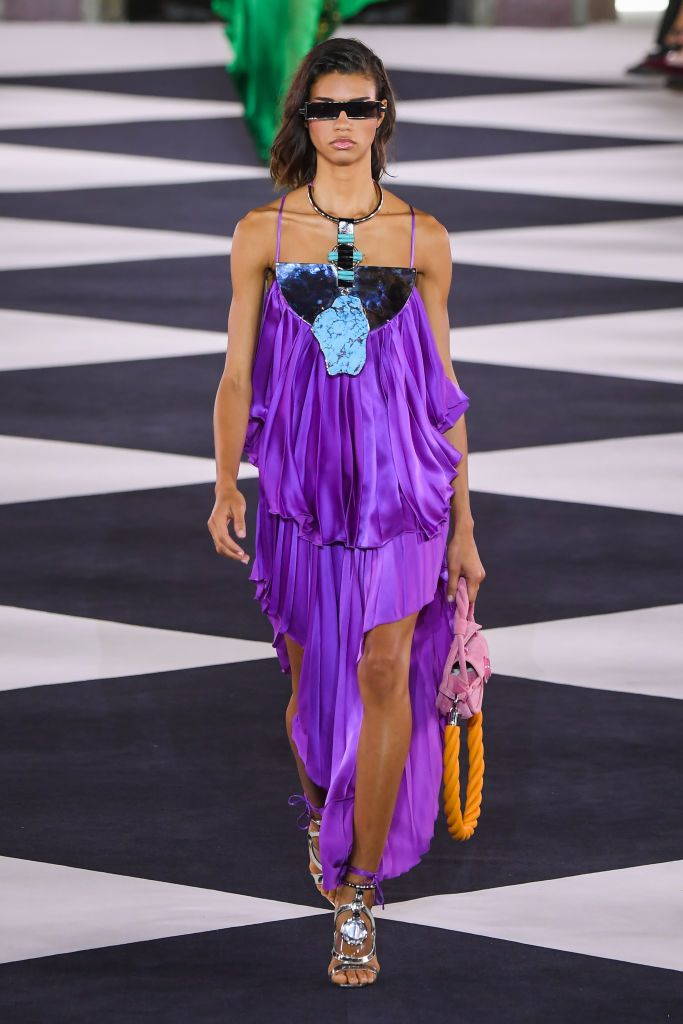 Balmain 2020. Photography by Victor Boyko.
All photographs courtesy of CR Fashion Book. References: CR Fashion Book and Pantone.
---