She designed and costumed for them all. Bette Davis, Barbara Stanwyck, Grace Kelly, Audrey Hepburn, Marlene Dietrich, Mae West, Elizabeth Taylor and a bevy of studio stars and starlets as large as the milky way. Edith befriended many of these sirens of celluloid. Knowing which side her bread was buttered she rarely commented on her working relationships, except for one: Claudette Colbert. She hated the woman. Colbert was, demanding, mean-spirited and ego hungry, often tearing apart costumes literally and figuratively. "That woman was a bitch and a dyke to boot," said David Chierichetti in his famed biography of Edith. Smoke and mirrors. That's how it all began for Edith Head. In 1923, married to a drunk and a first class louse, Edith was teaching French and Spanish at the Hollywood School for Girls.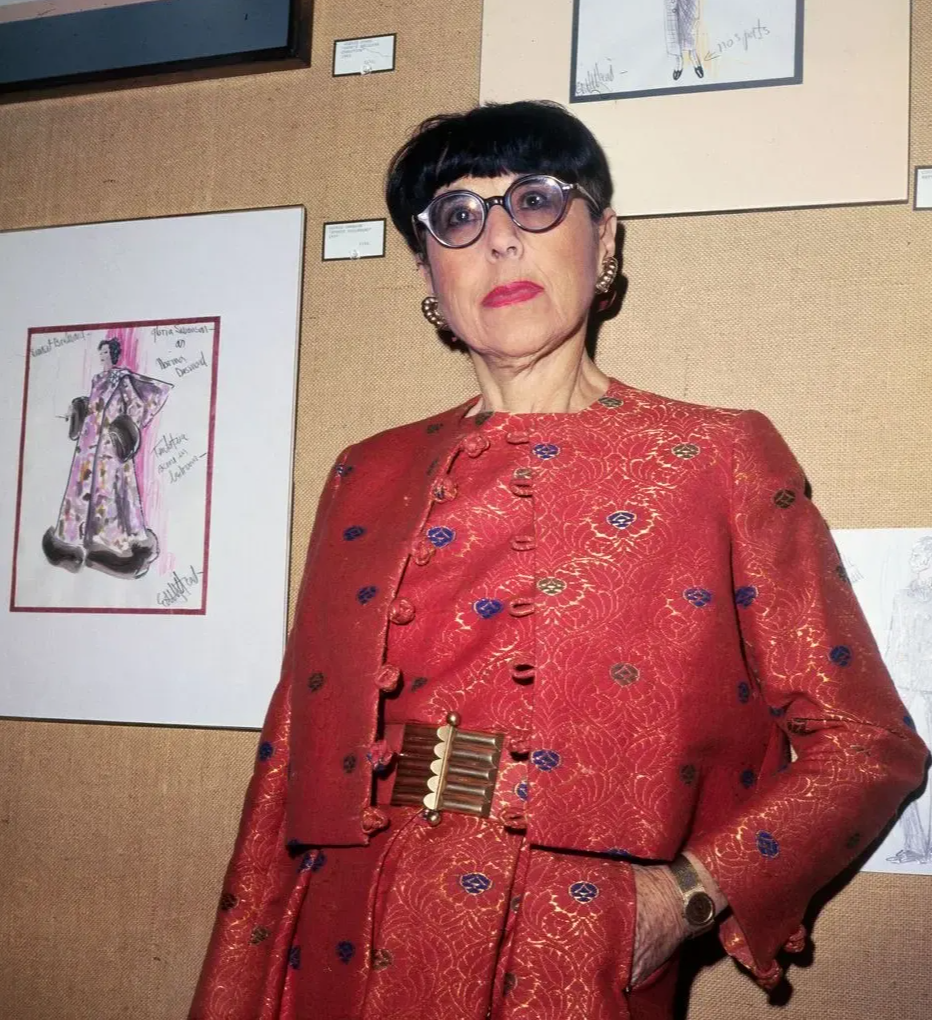 Costume Designer Edith Head. Photograph by Bettmann/Corbis.
Learning that she could make slightly more money (which she desperately needed to support herself, her husband Charles, and her mother) by teaching art at the Hollywood School, she enrolled in evening classes at Chouinard Art College where she studied seascape drawing. During the summer of that year, she happened across an advertisement for a position as a sketch artist at Paramount Studios. Edith had never sketched the human figure. She wrote a letter to Howard Greer, the head of Paramount's studio wardrobe department, for an interview. Greer responded immediately and asked her to bring in her sketch portfolio. Edith quickly went back to Chouinard to ask her classmates if she could borrow their sketches. Without hesitation, most of the students passed on to Edith their drawings ranging from magazine illustrations, architectural renderings, fashion design illustrations and interior design plans.
It has been written that she erased their names from their art samplings and wrote her own signature on them, and then placed dozens upon dozens of the sketches into her very large carpet bag portfolio and went to the interview with Greer. He asked to see her work. Edith began pulling out the sketches saying only: "This is the sort of thing we do in our school". Greer was flabbergasted by the sheer range of her talent. He fell for the ruse and hired her on the spot paying Edith forty dollars a week, twenty more than she was getting at the Hollywood School for Girls. Did Greer really fall for her story? The next day, staring down at blank pages on her drafting table, Greer knew she couldn't draw a damn thing. For whatever reasons, be they studio politics or human empathy, he kept Edith on and for six months taught her to sketch in his own style. It would not be the first time in her sixty plus year career that she would lie or stretch the truth.
What really knocks the sequins off me is how fascinating and relevant she has remained decades after her death. Just a few years back, the indie rock group They Might Be Giants, recorded a danceable ditty, 'She Thinks She's Edith Head'.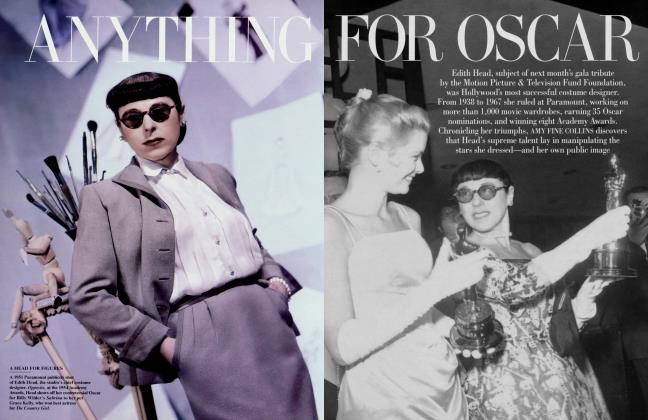 Vanity Fair March 1998. Feature on Edith by Tom Mashberg.
Edith was the subject of a featured article in a 1998 issue of Vanity Fair. A stage production about her career, 'A Conversation with Edith Head', won admirable reviews. Six books, including a few that she co-wrote, remain in popular print. One, in particular, will make you drop your pin cushion: 'Edith Head, The Fifty Year Career of Hollywood's Greatest Costume Designer' by Jay Jorgensen is a sumptuous coffee table book fat with her fashions and loaded with Hollywood dish – a must-read for her legion of fans and costume voyeurs.
Starting with Paramount Pictures 1924 silent film Peter Pan to her last film, Carl Reiner's hilarious send-up of film noir, Dead Men Don't Wear Plaid, Edith Head contributed designs to more than a thousand films and received end credits in more than 400 motion pictures. She was the first female costume director in Hollywood. She was nominated thirty-five times for an Academy Award and won a whopping eight Oscars, more than any woman as of this writing.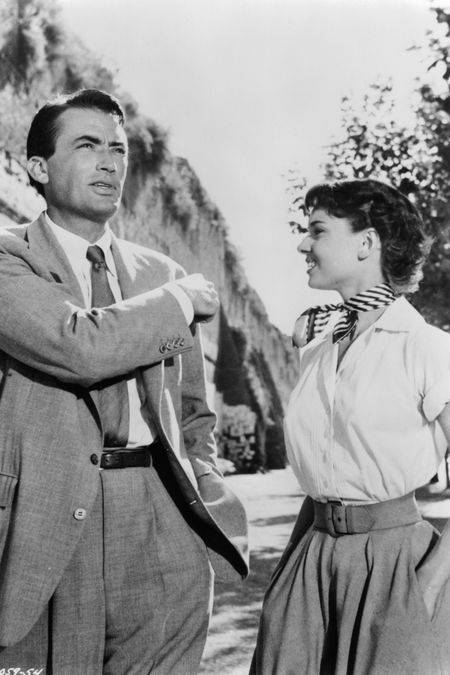 Gregory Peck and Audrey Hepburn in Roman Holiday, 1953. Costume Design by Edith. Photograph Courtesy of Archive Photos/2012 Getty Images
Edith was quite the savvy one. When designing a costume for one of her leading actresses, she kept in mind that what her stars were wearing, the movie-going public would want to wear too. For example, she designed the jungle print sarong for Dorothy Lamoure's first major film in 1936, 'The Jungle Princess'. The matinee-ladies fell in love with it and wanted it for themselves. Ladies swimwear companies caught on fast and quickly produced knock-offs. They couldn't keep up with the orders. Happy company. Happy Edith. Happy Paramount. A good politician, that Edith Head!
Edith once described Elizabeth Taylor as "one of the prettiest human beings I've ever seen". Yes, dear readers, I just know you agree! Gorgeous!
What became known as 'The Liz Taylor Dress' for the affluent teenage character, Angela Victors, in 1951's 'A Place in the Sun', Edith designed a prom gown made of six layers of white net over pale mint green taffeta, studded with single velvet violets, and a bodice covered in white velvet violets with green centers. Prom Queens on fire! It became a coast to coast sensation.
Edith's work ethic was a force unto itself. When costuming for her actresses, she included them in all phases of the design process. The sketches, the fabrics, the way a dress moved. She would talk in depth about the star's character, the lighting, the set design, the script. "Very dependable," Joan Crawford once quipped about Edith Head. "But you better not be late to a fitting. She has tremendous authority. When that little thing walks into a room, you know she's there."
There were two actresses in particular Edith loved working with – Barbara Stanwyck and Bette Davis. A lot of Edith's job was to disguise the actresses' physical imperfections. Barbara Stanwyck had been cast in the 1940 comedy 'The Lady Eve'. Paramount billed it as the sexiest picture of the year. Stanwyck had 25 costume changes in the film. Many designers thought Barbara had a 'figure dilemma '. She had a very long waist and an extremely low rear end that stuck out like a ledge. Using her hocus pocus, Edith widened the waistband of her gowns in the front and narrowed them in the back. "Since Barbara wasn't the least bit heavy," Edith wrote, "I just took advantage of her long waist to create an optical illusion that her derriere was just as pertly placed as any other stars." Edith's designs made Stanwyck an overnight sex symbol and made her one of the top box office draws of the 1940s. From 'The Lady Eve' on, no matter what studio she was working for, Barbara Stanwyck had written into her contracts that only Edith Head was to design for her.
Edith worked with Bette Davis on four pictures. Not only was she known for her notorious temper, Bette was another designer's nightmare. Bette had accentuated rounded shoulders, a wide neck, was bow-legged and her breasts hung to her waist. She wouldn't wear a bra because she thought the wires would give her cancer. With the advent of the wire free brassiere, Edith convinced her it was time to put one on. Now Bette knew a thing or two about costuming and what looked good on her. However, it was Edith that convinced her to always wear a skirt at calf length to hide her bowed legs and told her to never, under any circumstances, wear anything tight. Bette Davis wrote in the forward of the 1983 edition of Edith Head's Hollywood: "Through the work of a fine costume designer, an actor or actress can become the character. We may rehearse our lines, our movements, and our expressions, but not until we finally slip into the costumes does everything come together so that we actually become the character. If we are not comfortable in those clothes, if they did not project the character, the costume designer has failed us. Edith never failed." Yes, darling readers, as we mentioned before, it all becomes the fine art of smoke and mirrors!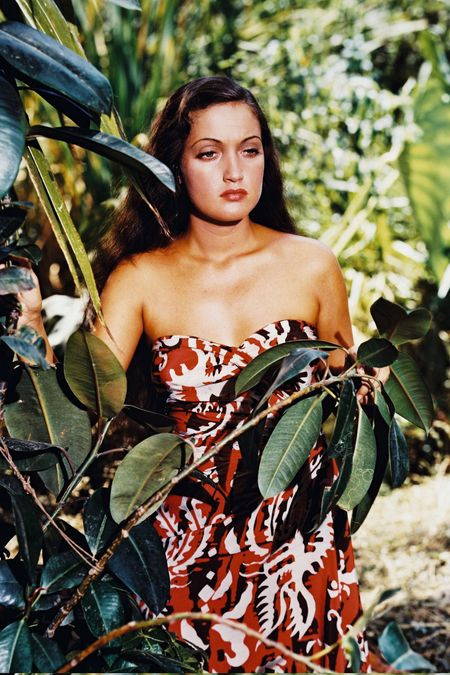 Dorothy Lamour in The Hurricane, 1937. Costume Design by Edith.  Photograph Courtesy of Silver Screen Collection/2011 Silver Screen Collection
"Accentuate the positive and camouflage the rest" was a bon mot of Edith's. And wow, she could camouflage. Throughout her career, her detractors accused her on many occasions of stealing ideas from not just her creative staff, but from other studio and fashion designers as well. I'm quite certain that Edith convinced herself that she was perhaps bending the truth a little for the sake of art.
Two incidents of many come to mind. Remember that little black number with the bowed back neck that Audrey Hepburn wore in 'Sabrina'? Well, she had nothing to do with that costume. Givenchy designed the dress. Edith won the Academy Award for best costume design for 'Sabrina' in 1954. In her acceptance speech, she never mentioned Givenchy's name. In 1973, Head won an Oscar for her men's costuming in the 'Sting'. Bob Mackie, famous for bangles, baubles and bead designs said: "She got more press out of 'The Sting' than anything she ever did. And she didn't even do it." The costume illustrator who had actually designed the menswear for Robert Redford and Paul Newman sued Head.
It didn't matter one Hollywood square. For decades film producers clambered to have her name on the screen credits. She was always box office boffo! Street cred!
Head worked for Paramount for 43 years. In 1967, Head left Paramount to work for Universal Studios. She was seventy. Edith remained working at Universal until her death in 1981. She was most likely influenced to move to the studio by Alfred Hitchcock, who had great admiration for her work, and Edith his. They worked on eleven films together, ranging from the sexy glam of Grace Kelly and Cary Grant in 'To Catch a Thief', to the squawkingly frightening 'The Birds', and the psychological despair of 'The Man Who Knew Too Much'.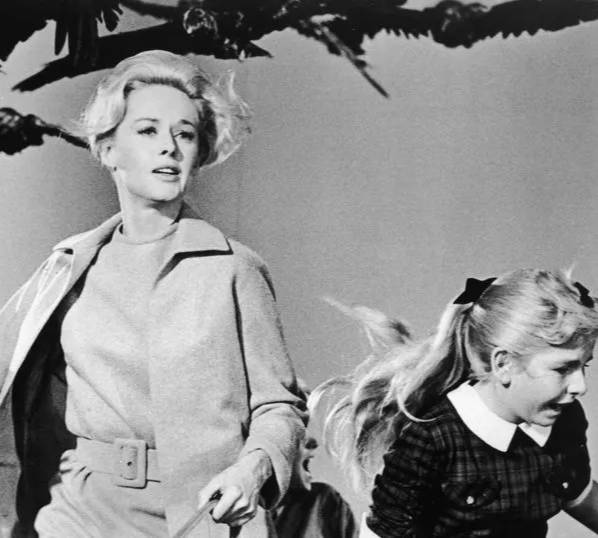 Tippi Hendren in The Birds, 1963. Costume Design By Edith. Photograph Courtesy of Universal Studios.
Edith Head may have been overly ambitious. She had to be, as many successful women have had to be to this day. She was quiet, secretive, and stole more than a few ideas and disgracefully never acknowledged their contributions. That will always be an enigma to me. As an artist, she completely understood form and function. She knew the importance of costuming to complete a film's story. Edith understood texture and form. She produced thousands of costumes and helped women to become stars. Edith Head was a movie within herself.
References:

The Dress Doctor by Edith Head

Edith Head's Hollywood by Edith Head and Patty Calistro

Edith Head by David Chierchetti

How to Dress for Success by Edith Head

Edith Head by Jay Jorgensen

The Cut
---