The Verve Magazine
Love is a Battlefield
Robert Clark, aka Indiana, came to New York on the biting-end cusp of the Abstract Expressionist movement. This was 1954 – the age of the swaggering, machismo, hard-liquored brands of Jackson Pollock, Mark Rothko, Franz Kline and William De Kooning....
by Meg Kimball |
His voice was not unlike the baritone of a young Orson Welles. His love of Whitman, Melville, Longfellow, mythology, architecture and Latin, led him to become the parent of the sculptural poem LOVE. "I am a father to a bad child. It bit me," he once said.   The 1968 signage and painting became one of the most infamous pieces of artwork of the twentieth century. So notorious, it literally destroyed his career in New York.
"It was a marvelous idea", he told NPR in an interview in 2013, "but it was a terrible mistake. It became too popular. And there are people who don't like popularity."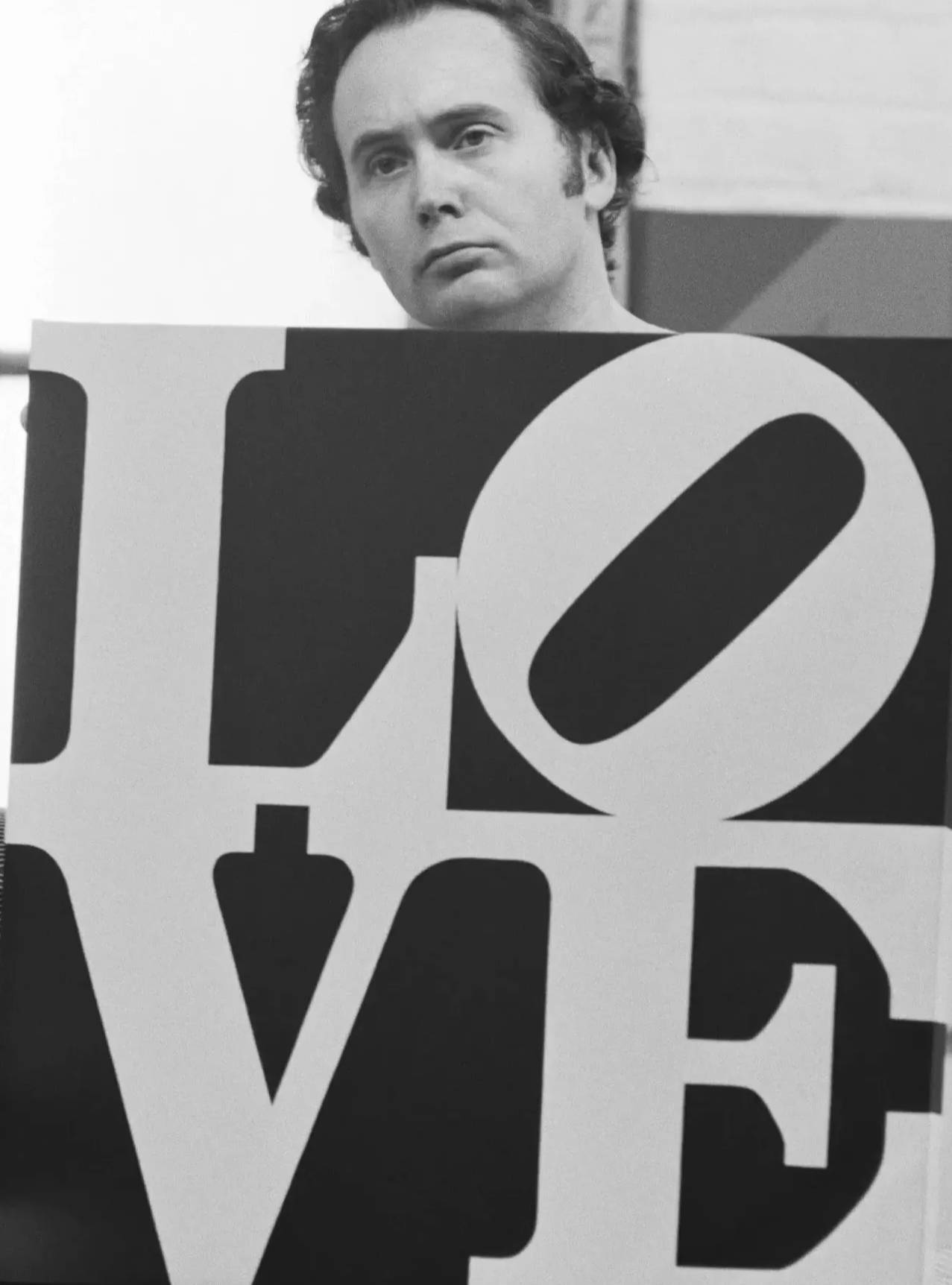 Robert Indiana with the iconic "Love" painting. Photograph Courtesy of The New York Times
Robert Clark, aka Indiana, came to New York on the biting-end cusp of the Abstract Expressionist movement. This was 1954 – the age of the swaggering, machismo, hard-liquored brands of Jackson Pollock, Mark Rothko, Franz Kline and William De Kooning. These boys were the Kings of Kings in New York's modern art museums and galleries, and the darlings of the galleons of wealthy art collectors. Buckets of paints on canvas. They were an elite group, making vast amounts of money – a group that secured and guarded itself with viciousness from intermeddlers. But Pollock was going. Rothko was departing elsewhere. The cracks were appearing. In these post war years, younger artists and writers were quietly slipping into view. They were questioning American values and mores. The Pop Art movement was beginning.
1954 brought Robert to New York via Scotland. He did not have enough money to return to Chicago and was awaiting promised funds from friends. That money never arrived. Robert was able to secure a job as a clerk at Utrecht, an arts supply store, at twenty dollars a week. He was barely surviving – Manhattan was just too overwhelming. He had no cash for a paint brush, let alone canvas and paint. He turned his hand to writing poetry. Friendless and without connections, he felt caged, alone and terribly isolated. The Abstract Expressionists were still everywhere. But their 'expression' to Robert was simply soulless. "I was an angry young man. And it was very depressing wanting to be an artist and finding the art world going in a direction that I couldn't follow," he said. The closet Robert came to a connection with the Abstractionists was De Kooning, the Dutch-American artist who ate at the same Village restaurant. From Robert's loft window, he could watch as De Kooning painted in the nude day after night.
In 1956, Ellsworth Kelly, a soon to become artist in his own right, chanced upon the art supply shop Robert was working in and they struck up a conversation. Both were looking for loft spaces. Robert's lease had expired, and he needed a new space quickly and on the cheap. Ellsworth obliged him information that spaces were available in Coenties Slip, an area in lower Manhattan, directly on the East River. At one time home to New York's first publishing houses and theaters, and formerly housing the likes of Edgar Allen Poe and Walt Whitman, Coenties Slip is today known as Wall Street. In the 1950's, with Abstract Expressionism taking over uptown Manhattan, Coenties Slip became a bargain basement refuge for a new generation of avant-garde artists, quietly creating what we now language and categorize as the Pop and Minimalist movements of the 1960's. Agnes Martin, Cy Twombley, James Rosenquist, Ann Wilson and others spawned this new environ and community – a universe without Pollock and De Kooning and their ilk. This community of artists were the first to both live and work in industrial spaces, creating a unique community of artist lofts. Today, we would think what is an artist without a loft? It was in Coenties Slip that the development of non-traditional media, weaving and collage came to promote the feminist art of the 1970's.
Robert Indiana standing in front of his Coenties Slip Stuido in the 50s. Photograph Courtesy of Morgan Art Foundation / Artists Rights Society (ARS), New York © 2014.
Kelly and Indiana spent days and hours painting and sketching the Coenties seaport and each other. "My painting life began with Ellsworth," Robert once commented. "Before Coenties Slip, I was aesthetically at sea. With Ellsworth, my whole perspective changed. All of a sudden I was in the twentieth century." Robert and Ellsworth became lovers.
Robert Earle Clark was born out of wedlock in New Castle, Indiana in 1928. In that same year, he was adopted by Earl and Carmen Clark. Both parents were Christian Scientists. His adoptive father had been, until he was financially ruined in the Great Depression, an executive for an oil refinery. The only job he could scare up during Robert's infancy was that of service manager at a Phillips 66 gas station. Earl was a rather distant man. Robert was closer to his mother as a young child. He remembers her as a warm and tender woman. She was a bit flighty and superstitious, obsessed with death, and very much a wanderlust. Carmen kept the family constantly on edge by moving them from one ramshackle, rundown house to the next. By Robert's account, the family had moved some twenty times by his age of seventeen. House number 1. House number 2… House number 21. Numbers.
Robert spent more than half his childhood in cars. With his mother's restlessness, the family automobile became the standard of his young domestic life, or, as Robert put it, "more stable than home itself." They would travel up and down Indiana and Illinois. He became utterly entranced by the popular billboard signage lighting on the highways of the mid-west. He became amused and tickled by the brief advertising language used on the billboards. Looking back, it seemed to him modern, optimistic and forward thinking. The electric use of colors was ere a metaphor Robert was beginning to formulate in his young, curious mind.
During the latter part of the 1930's, Robert's father began an adulterous affair. Carmen, getting wind of the dalliance, followed the pair everywhere in her own car, stalking them with a loaded revolver.   Earl and Carmen eventually divorced in 1938, and within two years, they both were remarried. Robert, now ten, began spending his weekends in Indianapolis with Earl's new family, while he lived with Carmen during the week.
Carmen and her son lived a terribly meager life, living off of what cash she could make working in diners and roadside cafes. Robert recalls the many nights going hungry. At a most tender age, he vowed to himself that he would not live the same, insufferable, poverty-filled lives of his adoptive parents.
At the early age of five, Robert – nearsighted, terribly underweight, and lacking constant friendship due to the many moves – turned to drawing for solace. His first grade teacher noted his talent and lit a spark of inspiration. In point of fact, she saved many of Robert's juvenile drawings, somehow intuitively knowing that he would one day be praised as an artist. When he saw her in later years, she had him re-sign his name from Robert Clark to Robert Indiana. Her dream had come true for him. It must have been a charmed moment for them both.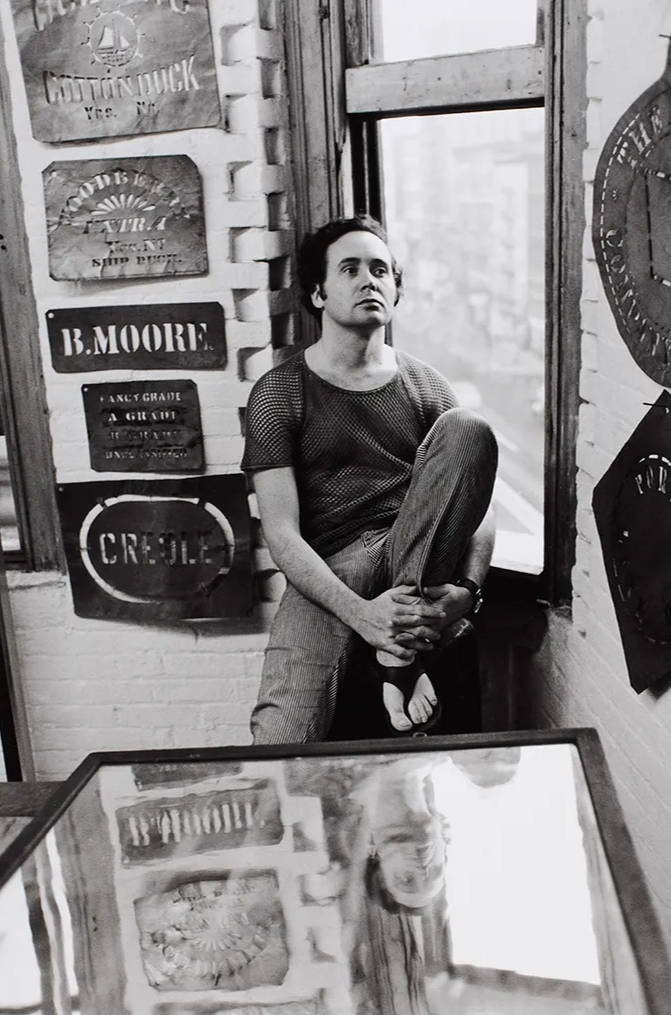 Robert Indiana, December 1954. Photograph Courtesy of Morgan Art Foundation / Artists Rights Society (ARS), New York. © 2010
Robert's mother and father tried everything to discourage him from the world of art. "They said that I would be living in an attic eating bean soup. "I like attics and bean soup, so I didn't fail," he said, years later. So relentless was his passion, he was able, through his stepmother's father (a janitor at the Arsenal Technical School in Indianapolis), to procure a spot at the school which offered an extensive arts program. This meant moving in with his father's family full time to establish residency in Indianapolis. Robert enrolled at Arsenal Tech as a freshman in 1942. He did not see his mother again until his graduation in 1946. Shortly after his graduation, Earl packed up and moved his family to California. Robert saw his adoptive father only once again before his death in 1965.
At Arsenal Tech, Robert not only saturated himself in the honors programs of English and Latin, he took deep encouragement from one teacher in particular, Sara Bard. Bard was a Philadelphia born watercolorist who pressed upon Robert the works of Edward Hopper, Reginald Marsh and Winslow Homer. This imprinted on Robert's psyche the significance of using his impressions of American settings and styles, including architecture, over the traditional classical schools of the European tradition. The years at Arsenal Tech were the most glorious of the young Robert's life.
With his father's move to California and a mere 18 years of age, after matriculating from Arsenal Tech, Robert felt lonely and lost. Searching for direction and attempting to come to terms with his juvenile sexuality, he was confused. He knew that he loved to write. Should that be his life pursuit? Painting, yes, was his great love, but could he do both? He turned to his Christian Scientist faith for answers.
Robert signed on for military service in the U.S. Air Corps. At the very least, he would be assured money to attend college on the G.I. Bill after his discharge. He was promised an assignment as a photographer, but instead, was given a position as a typist and writer for the base newspaper. Frequently ill with throat infections and bouts of depression, nonetheless, he served three years in New Mexico and Alaska. At 21, a month before his service agreement was to be finished, he was called home to Indiana. Carmen was dying from cancer. When Robert walked in, he found his mother living in a two room home with no hot water and no kitchen. So physically emaciated was Carmen, Robert barely recognized her. She could barely speak because of the cancer choking her vocal cords. They had very little time together.   Remarkably, her final words to Robert were "Have you had enough to eat?" EAT. Words.
Upon finishing his service in the Air Corps, Robert enrolled at the School of the Arts Institute in Chicago. The Institute allowed its students to finish their fourth year at another arts school. Robert made the decision to attend the Skowhegan School of Painting and Sculpture in Maine. With World War II now over, and the power of the atomic bomb atrocities displayed for all the world to see, young artists were beginning to draw and paint figurative images showing the darkness and pain of the human condition. The world, indeed, was a fragile one. It was at the Skowhegan School that Robert discovered art could be an expression of a social and political aesthetic. Art could even possibly be autobiographical. From Maine, he traveled to Scotland to complete his studies at the University of Edinburgh, where he focused on poetry, writing and print setting.
Ellsworth Kelly had just returned from six years of studying in Paris when he met Robert. Kelly had studied at the famed School of Fine Arts in Boston. As a youngster, he had been influenced by the naturalist work of James Audobon and his conscious awareness of how light affected color. "When I was a kid, I was often sick," Ellsworth once spoke of. My grandmother and mother got me going on birds, so I started doing these abstractions."
In 1950, he had gone to Paris to continue studies in figurative art. But he fell under the spell of the European modernists: Matisse, Picasso, Brancusi and the abstract sculptures of Jean Arp. Ellsworth decided that he no longer wanted to paint the human form. He wanted to paint things that had never before been observed – things one could only find in the mind's eye. Kelly began to experiment with geometrics, scale and form. Eventually, Kelly became the first of American Artists to use irregularly shaped, multi-paneled canvases. Although never identifying himself with any movement or group, Ellsworth became monumental in the development of the Minimalist painting genre.
Returning to America, art critics and New York artists found Kelly's work "too French." Egocentric Abstract Expressionism still overpowered Manhattan. Like Indiana, Kelly felt he was pinned against the wall. Perhaps this was the underlying attraction between the two of them. During their time together in Coenties Slip, Ellsworth encouraged the younger Robert to work in a Hard-Edged manner. The Hard-Edged style of painting was in its infancy in the 1950's. The dynamics of this style used geometric shapes with clearly defined edges and images and abrupt transitions of color. With hesitation and observing the works of Ty Twombley (who very often used Robert's loft to paint), Robert began using precarious wallboard to create a series of double-linked gingko-leaf paintings that were both flat and biomorphic in design. For Robert, the paintings had a double-edged, symbolic meaning. The stems of the gingko leaves touched to form one whole. This, to Robert, was a metaphor for his love and attachment to Kelly.
In 1958, Robert took a secretarial gig at the Cathedral of St. John the Divine. One of his assignments was to assist in proof reading a publication the cathedral was publishing, The History of the Cross. This gave Robert the inspiration to create abstract drawings of Christ's crucifixion on the cross. Using cheap printers ink, he created some forty drawings on paper of Christ's suffering. It was a cathartic moment in his life. Drawing parallels to Christ's transformation of being delivered from earth's sufferings, Robert Clark, as well, began to escape the sadness of his youth. Robert Clark could be re-born. Robert Clark would become Robert Indiana.
Indiana continued to experiment with the Hard–Edged formats. Outside his studio at 25 Coenties on the ancient loading docks of the Slip were vast amounts of scrap wood, beams, bike wheels and rusted out metal odds and ends. He began collecting these gobs and chunks to create totem sculptures, forming the metals and woods into circles, rectangles, and triangles. Almost by some holy synergy, other artists in Coenties were delving into this assemblage art form as well – Robert Rauschenberg and Agnes Martin included. They would compete in collecting these salvaged bits amongst the piers like children in a treasure hunt. All the while, to keep paying the rent and be able to afford brush, paint and canvas, Robert took jobs giving art classes in private homes.
In 1960, an uptown gallery owned by Martha Jackson presented a two-part showing of assemblage pieces created by seventy-one artists. The show created a fever. It was the first harsh hammer on the head for the Abstract Expressionist movement. These pieces, some towering and elephantine in size and proportion, connected the public with textured and real objects. Robert was beginning to get noticed.
Now beginning to actually afford paint and canvas, Robert created an oil on canvas piece named the American Sweet Heart. A blue, red, green and white piece of stenciled circles and three lettered women's names drew great curiosity amongst his peers and the gallery owners who were shopping around. But with this notoriety and attention came tremendous personal sadness for Robert. The work infuriated Ellsworth Kelly. In an interview with The Art Newspaper in 2013, Robert was asked about Ellsworth. "We fell out for several reasons," said Robert.   "First of all, he wasn't terribly fond of the idea that Cy Twombley was painting in my studio. So there were various levels of jealousy. It was obvious that I was being too influenced by Ellsworth. I had to make a distinct break, and that was the addition of the word. That's what really upset Kelly, because he did not feel that painting should have words." Robert never heard from Kelly again.
With temerity and defiance, Indiana continued further with his artwork, heightening the use of language in his pieces. The new works became an entanglement, a puzzle if you will, of geometric images and coded words. Robert's next piece was an interpretation of Mae West's (a gay icon of the time) 1930's performance in the film I'm No Angel. The words SEX, ME, LAW, CAT were all references to what were considered sexual taboo. Other paintings, such as the American Dream, I, were themed around what Robert proposed were the shallow American values towards materialism, politics and social mores. These and further paintings were painted in vivid colors, flat against dark backgrounds often flashing like neon lights. Over the next dozen months, he began to infuse emotionally charged words into his works. EAT and DIE. The eat signs reminiscent for him of all the diners and cheap roadside restaurants his mother slaved in. Die – an emotionally charged memory of his mother's superstitions and obsession with death.
In 1962, a two-person exhibit at the David Anderson Gallery displayed several pieces of Robert's totem work and word pieces. Nothing sold. Shortly after the show closed, Alfred Barr, Director of collections at the Museum of Modern Art, visited the gallery and sharply stopped in front of American Dream, I, and became transfixed. Finding the gallery's owner, Barr said "I would like to purchase that painting for the MOMA. I love it, but I have no idea what it is about." Two months after, American Dream I, was the focal piece in MOMA'S presentation of their Recent Acquisitions showcase. Within a few days, the 32-year old Indiana became the New York art world's newest sensation. Robert later said that theAmerican Dream, I changed the entire course of his life.
Even with his star rising, Indiana had no gallery representation – something all artists needed to sell their work. Eleanor Ward entered the scene to remedy the situation and gave him a solo show at the Stable Gallery. Robert mass-produced several more pieces over an eight-month period, including two more American Dream sequential pieces, all styled in roadside signage-like layouts with motifs of roulettes and geometrics. At the same moment, Roy Lichtenstein, Andy Warhol and James Rosenquist were all celebrating solo shows of their own. These new realists were heralded in the press as Pop artists, the newest art movement in America.
In 1964, Robert was offered a second solo show at the Stable Gallery. Two of Indian's paintings became stars of the show. The first, of his father Earl, depicted him leaning against his car, distantly aloof and alarming ice cold. The second of his mother Carmen, like that of his father, depicted her by the family automobile, looking fully alive and engaged, with one breast falling out of her drapery. The drawings were emotionally wrought depictions of his long held mental image of his parents. They exhibited yet another format of his art – another expression of exposing his private side.
In this same year, defining personal moments were occurring in Robert's life. 25 Coenties was being demolished.   Robert moved to a five-story building at Spring Street in the Bowery section of New York. He was also coming to terms with defining himself as an artist. He began to describe himself not only as a painter of signs but also as 'a painter of the sign of the times.' He wanted to be known as a Hard Edge painter and not fall under the collective term Pop artist. He expressed that an artist had a responsibility to the public to voice loudly on issues concerning contemporary American life and social politics, with all of its dark past and present pre-occupations. Robert was becoming intrigued with I Ching and the symbolic meanings of numbers, and how he associated numbers with landmarks and turning points in his life.
In 1965, MOMA invited Indiana to design a Christmas card based on a series of his earlier Love signage paintings. The graphic layout of LOVE, with an intense red-green-blue color presentation, promotes a rollicking, tilting O, making the word LOVE into a lovely, musical note. Robert's commission of LOVE became the most profitable Christmas card the museum had ever published. Over the next few years Indiana created public love sculptures in parks and public spaces beginning in Boston at City Hall Plaza and continuing on to Tokyo, Lisbon, Jerusalem, New York and many more cities.. The US Postal Service used the Love design for a Valentine's stamp which sold a whopping 300 million copies. Painfully, Indiana neglected to have LOVE copyrighted so he received little or no financial compensation from all his imitators and companies who made LOVE t-shirts, mugs and jewelry. Robert went on to print eight more versions of LOVE in silkscreen for a 1966 show. He painted these in the same colors that the Philips 66 gas stations used to paint their gas pumps, uniforms and logos – a homage to his to his father who died in 1965.
Yet, love can be fickle. Art collectors and critics alike ousted him as a commercial sell out. One critic went so far as to suggest that perhaps Robert's next word art should just say MONEY.
When the Stable gallery closed in 1970, Robert was left with no representation for his work. In 1971, he was offered to show a series of new works, but critics and the public alike found the new pieces repetitious and behind the times. Robert admitted that he was "hopelessly nostalgic and sentimental." But, by then, the U.S. temperament was far from dewy-eyed. The political climate of not just New York but the country was becoming restless and divisive. The great American dream of certainty and confidence, idealism and exhilaration, was waning.   With the murders of Robert Kennedy in 1968 and Martin Luther King in 1972, dark clouds were hovering. Demonstrations over the Vietnam War were spilling over to the streets of cities and towns across the nation, as well as violent protests on college campuses. Another show was offered to Robert in 1975. Literally no one reviewed or saw the show. Robert had been dismissed by the New York art world. It would be his last staging in Manhattan for fourteen years. To add insult to injury, Robert was evicted from his building in the Bowery in 1978. Robert felt that, perhaps, it was time to move on.
Since 1969, Robert had been summering in Maine and had fallen in love with Vinalhaven, a small fishing island in the Penobscot Bay. Directly across from the island's pier stood a century old, Victorian building, the Odd Fellows Lodge, a fraternal organization whose motto was 'Friendship, Love and Truth'. The locals know the building as the "Star of Hope." The building was, to Robert, the ideal home that his mother, Carmen had only dreamed to inhabit. So, at the age of fifty, Robert turned his back on New York and purchased the Vinalhaven house. This, for Indiana, became a self-imposed exile.
"I'm an artist. I love making art. Period. Nothing more. I have no role in society. I'm a recluse," said Indiana.
At 87, Indiana may purport to be a recluse, but he is still producing work. Presently Robert is engaged in working on a photographic autobiographical memoir of his life's journey. Indiana is finally receiving honors long over due. Some of his pieces have in recent years sold between two-hundred-thousand and two-million dollars.
The Whitney Museum held an unprecedented show of Indiana's work entitled "Beyond Love" which led to a resurgence of his work internationally.
In September of this year, in celebration of Pope Francis's visit to Philadelphia, The Philadelphia Museum of Art installed AMOR – Indiana's six-foot tall word sculpture – on its East terrace, visible to the one million people attending the papal mass.
I suppose Robert Indiana has been right all this time. All you need is love.
Sources: Art News. NPR. Barbara Haskell. Art in Review. Robert Indiana by Robert Hobbs. Grace Glueck. Oxford Grove Mental Floss, Art History Robert Indiana by Nathan Kernan.
---