The Verve Magazine
The Art of Tea
Legend has it in 2737 B.C, Shen Nung, a Chinese emperor, discovered tea one day by accident. One day when Shen Nung was boiling water near a tea tree, tea leaves accidentally fell in the pot and gave the most...
by Madeleine Baughn |
For over 3000 years, tea has been one of the most widely sought-after beverages. Legend has it in 2737 B.C, Shen Nung, a Chinese emperor, discovered tea one day by accident. One day when Shen Nung was boiling water near a tea tree, tea leaves accidentally fell in the pot and gave the most magnificent aroma and taste. Shen Nung is now known as the Legendary Father of Tea. This was known as the Golden Era of Tea. The Silk Road was used to transport tea between the countries. Over the next thousand years, tea spread all over the world, including Europe. In the late 17th century, tea was considered "fashionable" in Dutch culture and became increasingly popular in Western Europe. In 1657, England began selling tea mainly for medicinal purposes. Not long after that, Catherine of Braganza, from Portugal, married King Charles II—and she made tea a staple in English culture.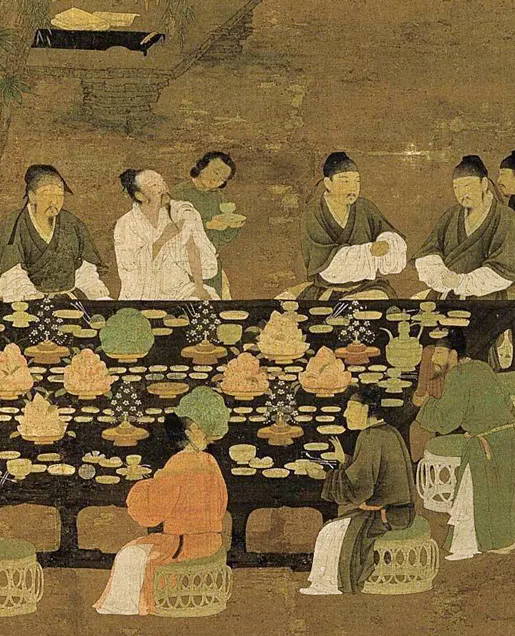 Painting: Wen Hui Tu ( Gathering Of The Literaries ), Detail. Ink And Pigment On Silk 124cm X 184cm. Artist: Zou Ji (Emperor Hui Zong Of Song Dynsaty), Active 1082-1135 A.d. Collection At The National Palace Museum, Taiwan.
Because tea was expensive, it became a symbol of England's elite. Catherine gathered her ladies and made "tea-time" a staple in English aristocracy. And over time, tea became a central part of English culture. The English imported teapots from China and put their spin on ancient Chinese tea rituals: afternoon tea or High Tea.
"

When Catherine married Charles, she was the

focus of attention-everything

her clothes to her furniture became the source of court talk

"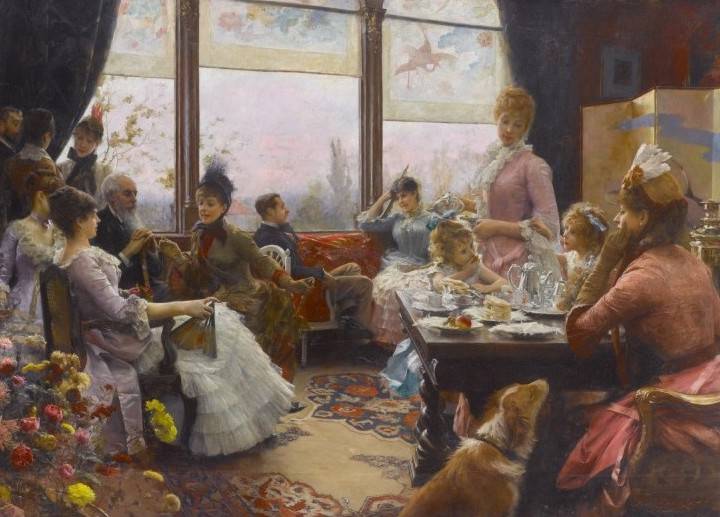 Painting: Five O'clock Tea. Signed Jl Stewart Inscribed Paris And Dated 1883-4 (Lower Right) Oil On Canvas. 65½ By 90½ In. 166.4 By 229.9 Cm Artist: Julius Leblanc Stewart.
All tea comes from the same plant, the Camellia Sinensis. The difference between black, green, oolong, and white tea is that they all go through a different harvest and oxidation process. Tea is harvested all year long in Sri Lanka, Kenya, South India, and China because of the climate. In Japan, tea picking usually begins in May and ends in October. Tea is hand-picked in every country and goes through a careful production harvest and fermentation.
Caffeine goes in descending order, starting with Black Tea having the most caffeine, White with the least, and Herbal with no caffeine. The highest quality tea is loose leaf tea, and we recommend buying from a vendor, rather than your local supermarket.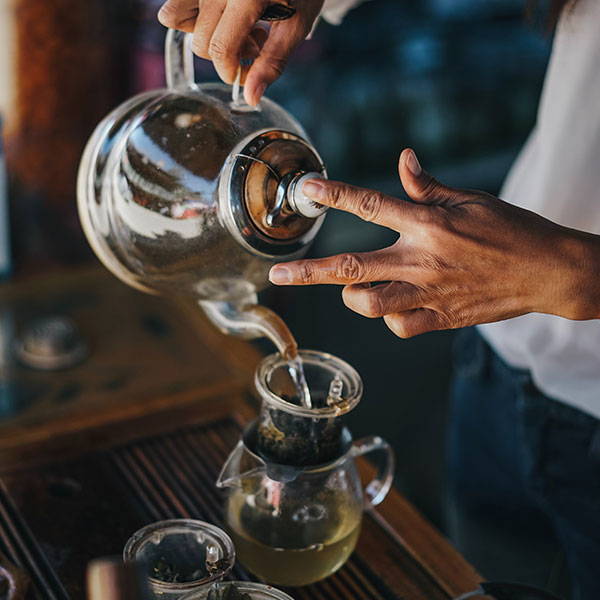 Coco Chanel having afternoon tea. Photo Courtesy of The Cornelia Guest.
"There is something in the nature of tea that leads us into a world of quiet contemplation of life"
Tea awakens the senses and can help bring you into the present moment. There is a feeling of purity and cleanliness after drinking a cup. Gyokuro Jade Dew has a light, kelpy, grassy taste as if you are drinking liquid health. It is a steamed tea from Japan. Gyokuro Jade Dew is one of the more expensive teas, along with Downy Pearl Jasmine. Downy Pearl Jasmine is hand-rolled with buds that contain a natural jasmine scent. This delicate tea is a signature on many palettes of tea connoisseurs.
Both green teas are both invigorating hot, but also feel so purifying iced. Gyokuro Jade Dew and Downy Pearl Jasmine teas are the tea equivalent of La Mer skincare. As for black teas, Lapsang Souchong is a smoky tea from the mountains of Wuyi in the province of Fujian, China. It has a distinct smoked flavor, reminiscent of Summer nights by the campfire. Culinary artists use Lapsang to add a smoky flavor to meats and other dishes. Darjeeling Black is from Darjeeling, India, and has a medium-bodied, muscatel flavor, with touches of floral notes. This tea is unique because it has some of the highest amounts of antioxidants and is grown in one of the most upper tea regions.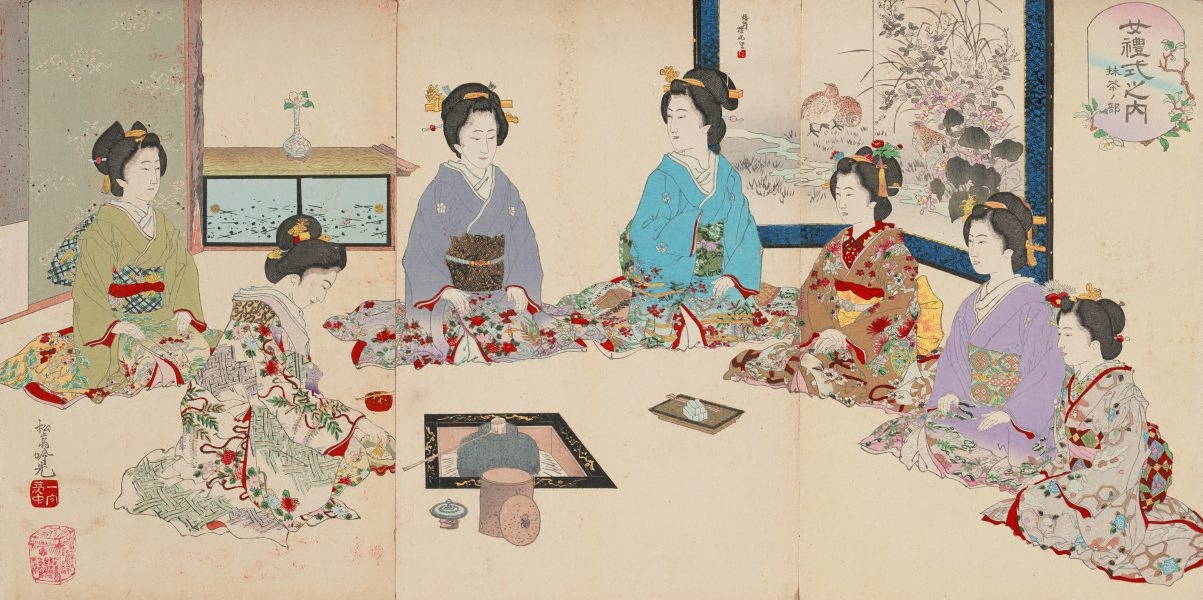 Painting: tea ceremony, from the series pictures of ladies' etiquette 1890, concertina album; triptych; color woodblock print. 35.4 x 23.7 cm artist: adachi/shôsai ginkô, japan.
The Oolong Teas above, Royal Red Robe, and Evergreen Supreme show the variety in Oolong teas. Their oxidation is vastly different, and they have vastly different tastes. Royal Red Robe is from the Wu Yi Mountains of China and brews a lovely amber color with a woody flavor. Evergreen Supreme Oolong is harvested in the Taiwanese high mountains and is a favorite among connoisseurs. It has a delicate taste, similar to many Green Teas, with a jade-green color. Lastly, Silver Needles, also known as Baihao Yinzhen, is a luxurious white tea with a feathery, airy texture. Silver Needles has a mellow, light taste, with a hint of natural sweetness.
If you find it challenging to meditate, try drinking a cup of tea to quiet your mind. Tea can stimulate your senses while relaxing you. Because it contains L-Theanine (an amino acid that promotes relaxation), it can help you focus and improve your alertness. Tea can help you practice mindfulness because it helps bring you into the present moment through the senses. Mindful-tea drinking can quiet the noise going on around you and act as a form of meditation. With each small sip, take in the aroma, taste, and feel the warmth. A cup of tea will leave you feeling healthy, rejuvenated, and calm.
REFERENCES: ART GALLERY OF NEW SOUTH WALES, SOTHEBY'S, TEA GUARDIAN.
Disclaimer: No content on this site, regardless of date, should ever be used as a substitute for direct medical advice from your doctor or other qualified clinician.
---