The Verve Magazine
Vreelandia
As colorful, dynamic and cheeky as the Land of OZ, the cult of Diana Vreeland still illuminates the world of fashion decades after her death. 
by Meg Kimball |
As colorful, dynamic and cheeky as the Land of OZ, the cult of Diana Vreeland still illuminates the world of fashion decades after her death.  Diana (Dee-AHN to her darlings) was the Empress of Editors and the Countess of Curators, who not only defined but also declared fashion and its photography a true art form.  Dream Balenciaga. Think Richard Avedon.  Wear Coco! Born in Paris in 1903 at the height of the Belle Époque era, Diana and her older sister, Alexandra ("the family beauty"), lived in London until the outbreak of WWI. Realizing war was inevitable, Diana's parents, the American socialite and adventurer Emily Hoffman (a descendent of both Martha Washington and Francis Scott Key) and Frederick Dalziel, a ne'er-do-well stockbroker, moved the family to New York in 1914.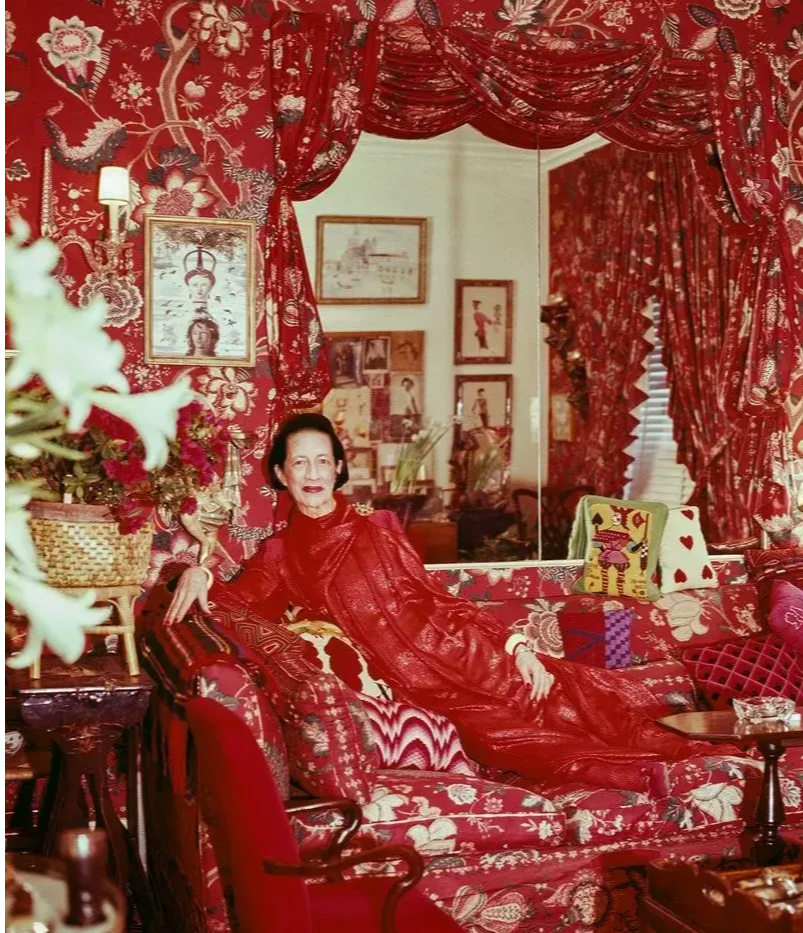 Former American Vogue and Bazaar Fashion Editor, Diana Vreeland in 1979. Photograph by Horst P. Horst
It was a terribly lonely childhood for Diana and Alexandra. The girls had separate nannies and were constantly pulled out of school when their parent's travel whims took precedence. Diana attended the famed Brearley School in Manhattan for a short while. At a young age, Diana held a fascination for all things French and Russian. Diana convinced her now ever indulgent parents to enroll her in dance school where she joyfully studied movement and ballet with the expatriated Imperial Russian Ballet master, Michel Fokine. His training became Diana's baccalaureate.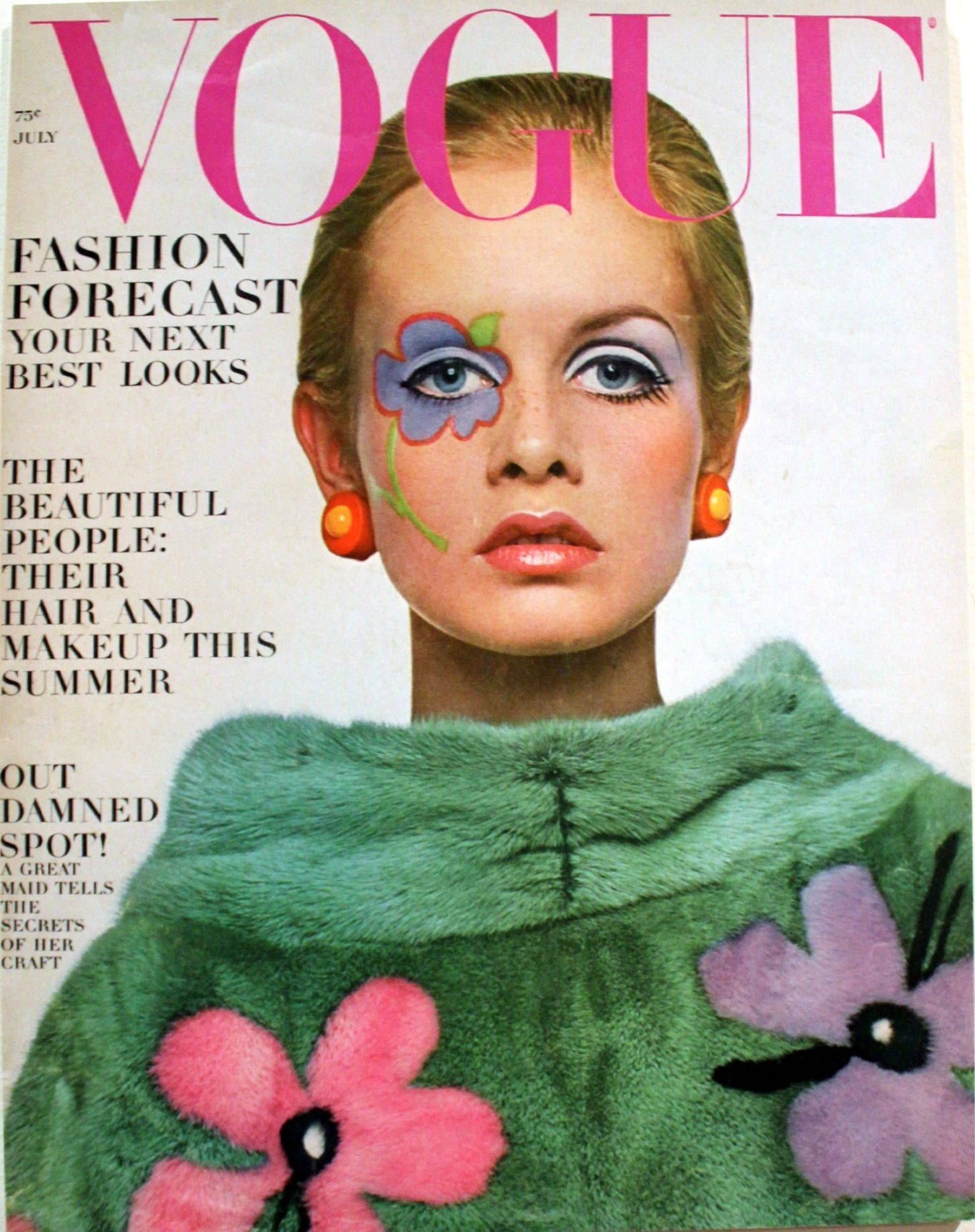 The Iconic "Twiggy" Cover, July 1967, Vogue. Photograph by Richard Avedon.
'My ugly little monster" Diana recalls her safari hunting mother, Emily, calling her repeatedly. Perhaps this was the impetus that drove Diana into creating a universe that was her brand of beauty – proudly jutting a revolution for women to create their own style and teaching them to never become a slave to the catwalk.
Throughout her life and career, Vreeland credited her husband as her inspiration and muse. She married New York banker Reed Vreeland in 1924. That union lasted until his passing forty-six years later. Reed had many dalliances outside the bedroom suite, but Diana looked the other way. Tall, Hollywood-handsome, and distinguished, Reed was never really interested in his banking career, preferring the society life to the boardroom.
No matter how stunning a dress may be, it was the life in the dress that mattered. Diana's philosophy was beginning to bloom.
Reed and Diana had two sons- Tim – born in 1925, who became an architect – and Frecky, born in 1927, which became a career diplomat.  As much as Diana espoused the values of family life, the boys saw little of Diana as children.
Becoming friends with Mrs. Simpson opened doors in high society to Diana.  For the next seven years, her life would be the dream of dreams.  Diana found herself frequenting Paris regularly and engaging with couturiers and artists from all over the European continent – Coco Chanel, the writer Jean Cocteau, and Christian Bérard of the Ballet Russes, to name only a few.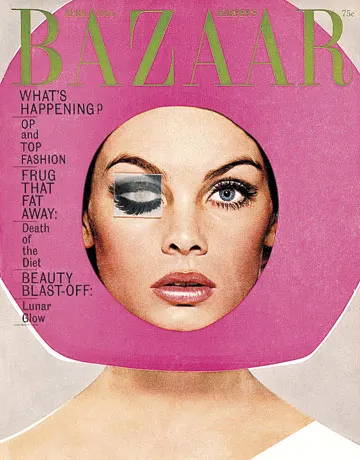 Jean Shrimpton, April 1965 Cover, Harper's Bazaar. Photograph by Richard Avedon.
On the eve of the stock market crash of 1929, the Vreeland's left New York for London.  Reed had been transferred to a bank there. With funds and family resources limited, Diana knew they could not survive the lifestyle to which they had become accustomed much longer on Reed's pittance of an income.  With what money she could raise, Diana opened a small lingerie shop selling fine bed linens, fancy stitched under garments and rather racy black underwear – the Victoria's Secret of its time. Diana befriended one of the shop's frequent and first patrons, Wallace Simpson, the woman who would soon become the infamous paramour of Prince Edward who would eventually abdicate the throne as King Edward the VII for the love of this wealthy divorcee.
Madame Chanel and Vreeland would become the closest of chums for the next several decades.  Diana became fascinated with style. Chanel, a then revolutionary force, was creating practical but elegantly lined and designed fashion for the emerging working woman. This style that spoke of independence and uniqueness to the individual, engrossed Diana.  She became an expert in the study of fabric and draping at this period.
Diana was a disciplined savage and demanded the same of her staff. Never be late. Stay late. Try it this way. Try it that way.
 

Her photo shoots went on for dozens of hours, exhausting everybody. She had the eye and tooth of a tiger.
No matter how stunning a dress may be, it was the life in the dress that mattered.  Diana's philosophy was beginning to bloom.
The Vreeland's fabulous life in London and Paris came to a screeching halt in 1936, when Reed was transferred back to New York. Heartbroken, Diana wasn't stateside more than six months when it became clear that Reed's income was far from sufficient to support their lifestyle and educate their sons.  As luck would have it, Diana found herself at the right place at the right time, once again.
One evening, while dancing at the rooftop club at the famed St. Regis Hotel while wearing a white lace Chanel dress topped off with a bolero hat and red rose in her hair, Diana was spotted by Carmel Snow, the chief editor at Harper's Bazaar.  By this time, Diana was already sporting her infamous Kabuki makeup with sharp streaks of bright red rouge gashed from her cheekbones to her ears. Carmel offered her a job on the spot covering fashion for Harper's.
The word 'job' was certainly new to Diana's lexicon. Though she dedicated hours of detailed time to her clothes, Diana had never seen an office and was incapable of rising before noon. But Diana was smart enough to realize that her background was her future.
Her friendships and connections with designers and artists in Europe were the perfect qualifications to write and present fashion commentary as a tonic for fantasy-starved, American women,  especially with the almost decade long economic depression coming to a most welcomed end.
February 1960 Cover, Harper's Bazaar. Photograph by Richard Avedon.
From 1938 to 1962, Diana's salary at Harper's was less than 20 grand a year. It just wasn't enough. In late 1962, Vogue Magazine approached Mrs. Vreeland and offered her the biggest job in fashion journalism – that of Editor-in-Chief. The gig came with a large salary, a vast expense account for herself and her production shoots, and the sweetest of taboos – the freedom to do whatever she pleased with Vogue.   And so the re-invention of the fashion magazine began. Diana spent the next twenty-four years revolutionizing the role of Fashion Editor. Rather than report on what Seventh Avenue or Paris had to offer, she wanted to create something different for the new American woman. And that she did. She made Lauren Bacall an overnight star with just one Bazaar cover. She popularized the turtleneck sweater and the thong sandal. During World War II, when the government rationed out food and clothing coupons, she encouraged thousands of women to purchase ballet slippers rather than cash in their shoe ration coupons.
  So solid was her intuition, it appeared only natural that she would be the one to tell Jackie Kennedy to wear the now acclaimed pillbox hat and sable muff to Jack's inauguration in 1961.
Diana perceived the early 1960's as an echo back to the roaring 20's. 23 skidoo and the bee's knees!  Youth reigned supreme!  The British music invasion, colorful, playful clothes in new fabrics, liberal political and sexual mores, and the civil rights movement played into this dawning decade.  Fashion no longer filtered down from couturiers and old school society matrons.  It emanated from the streets. Teens, counter culture groups, rock stars, and the young, hip movie folk were now the news. Vreeland had read the tea leaves. The way to increase Vogue's circulation was to tell a story through beautiful photography and fresh, exotic looking personalities. Twiggy, Verushka, Marisa Berenson, Lauren Hutton, Angelica Huston, Cher and the first major African American model, Donyale Luna, graced her pages – and so, the celebrity model was born.
Vreeland gave a second breath to Vogue's editorial content.  She pioneered articles on exercise, skin care, hair treatments, and even plastic surgery.  From Harper's, she poached photographers Richard Avedon and David Bailey, who were on the cusp of super stardom in their own right.
Diana was a disciplined savage and demanded the same of her staff.  Never be late.  Stay late.  Try it this way.  Try it that way.  Her photo shoots went on for dozens of hours, exhausting everybody.  She had the eye and tooth of a tiger.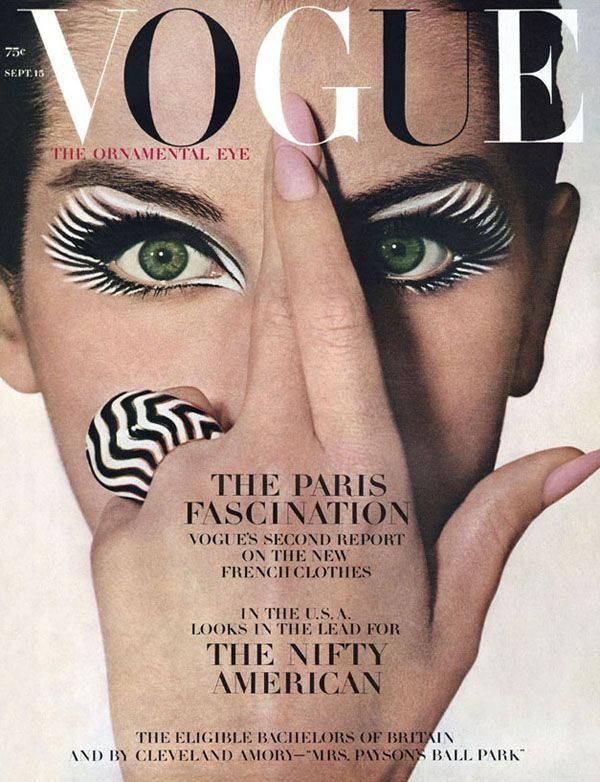 September 1964. Vogue cover under Diana.
Nothing less than perfection was good enough for Diana.  She often left her staff weak with terror.  Her motto was "I'm looking for the suggestion of something I've never seen before."  More to the fact, Diana once sent a photographer out in search of the perfect color billiard green for a background color she needed for a shoot.  Twice the photographer returned, and twice Mrs. Vreeland was just not happy with the shots.  "Billiard Green!" she exclaimed.  Why could he not get the right Billiard Green?  Exasperated, the photographer explained to Diana that the pictures were, in fact, from an actual green billiard table he had procured just for her.  Diana, in her inimitable fashion, retorted, "My dear, I meant the idea of Billiard Green!" One can only imagine the look on her associate editors and the photographer's faces.  Yet her quest for the ideal turned out to be the seeds of her undoing.
Alluring set locations were high on Diana's list. Turkey, North Africa, Mexico.  Veruschka in Libya.   Veruschka in Japan.  Models adorned in Pucci tights in the deserts of Israel.  A dozen pages in Vogue dedicated to Orientalism. Truth was subservient to beauty for Diana.  She was unsentimental when it came to cutting up photos of models and mixing them up with other models for a layout.  She created composite photos that showcased her ideal, but completely imaginary, vision of a woman.
By the late sixties, Vogue began featuring fashions that could not be found in stores, much less worn on the streets.  Seventh Avenue was not happy.
Mrs. Vreeland once asked one of her editors "What is the name of that designer that hates me so?"  The editor responded with one word.  "Legions."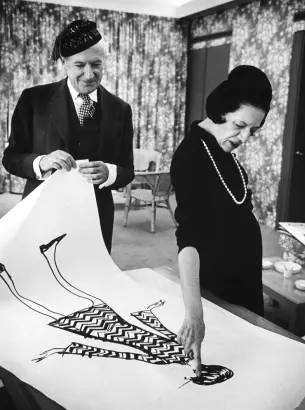 Photograph Courtesy of Diana Vreeland. Memos: The Vogue Years, 1962-1971.
Reed Vreeland died in 1966 after a long bout with cancer.   Diana never acknowledged his death publicly and never got over it. Without her lodestar, she began to lose focus.  But while Vreeland's personal fame continued to rise, Vogue's revenues were plummeting.  By 1970, the rage of fashion was anti-fashion.  Seventh Avenue had to be placated.  Andy Warhol said at the time, "Vogue decided it wanted to go middle class."  Having transformed Vogue into the prestigious fashion magazine that chronicled the 1960's, Diana was unceremoniously dumped in 1971.
"Elegance is important, courage and dignity essential" was a quote Diana kept on her office bulletin board.  When news broke of her being booted from Vogue, her only complaint was that the newspapers listed her age as 'seventyish.'  Yet, despite her distinguished career as the high priestess of fashion, she couldn't afford to retire and rest on sequined laurels. Once again, Vreeland did not have the money to support her accustomed lifestyle. Diana needed work.
In 1972, Tom Hoving, a director of the Metropolitan Museum of Art, realized that the Met needed something more innovative to generate attention and cash.  Subscriptions and public attendance had been drastically falling.  The Met needed to design new shows and create a new fascination to the 70's generation of attesters and benefactors.
Enter stage right – our Diana.  She was offered the position as a special consultant to the Met's Costume Institute.  She quickly accepted.  Without so much as an extra puff from her cigarette, Diana was able to jump from the two dimensional magazine layout to the three dimension of the museum exhibit, which include creating the essence of the displays time period with air scenting perfumes and period music.  She drove the Costume Institutes staff NUTS.  Detail! Detail! Detail!
Diana's exhibits at the Met were beyond spectacular.  Producing 15 shows over a seventeen-year period, she lassoed and drew in the fashion aficionados, film stars and enthusiasts of glamour from around the world.  Her first exhibit was a tribute to her beloved Spanish couture, Balenciaga.
"Balenciaga was incredible.  I was madly infatuated with his clothes.  His clothes were devastating.  One fainted, one simply blew up and died."  – DV
Mrs. Vreeland once asked one of her editors "What is the name of that designer that hates me so?"
 

The editor responded with one word.

 

"Legions."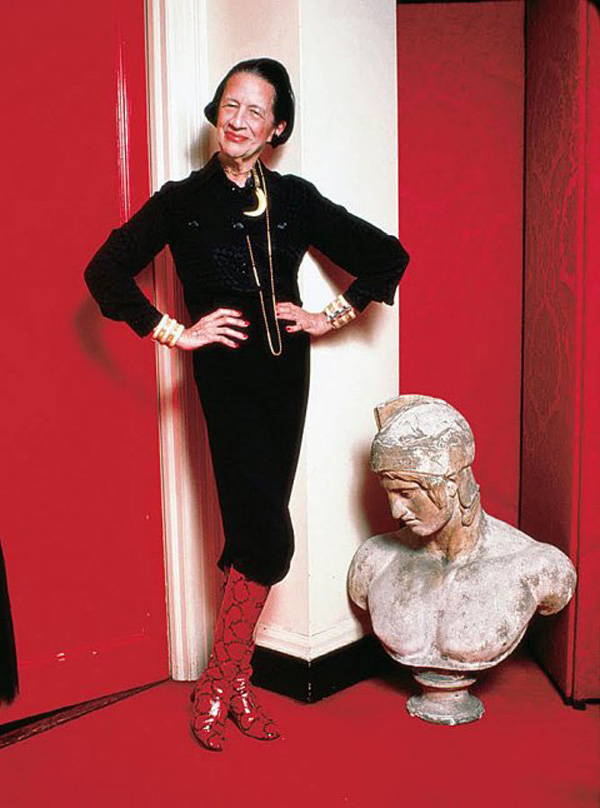 Vreeland's cache of fashion knowledge was illimitable.   Exhibitions of Hollywood Costumes, Designs Of The Ballet Russes, Great American Women of Style, an exhibit of The History Of Equestrian Wear – were just a few of her show of shows.  Always the dilettante supreme, Diana in 1983, chose to do a retrospective of a living designer. That designer was her beloved Yves Saint Laurent. Was this a mere commercial ploy for she and Laurent?   More than one thought so.   It would be scant not to mention the controversy she created once more.  Critics, curators and art directors more than raised an eyebrow – they were down right nasty.  They attacked her lack of education and her inaccuracy of historical timelines.  They just could not grasp that costume or clothing had anything to do with art. Diana made them wrong.  She understood the waves and currents of the seventies.  The world wanted nostalgia, glitter and romance.  What is art if it doesn't evoke a response, be it visceral or memorable? 
"Diana Vreeland, the editor of Vogue for ten years, is one of the most beautiful women in the world because she's not afraid of other people, she does what she wants." - Andy Warhol
Mrs. Vreeland's seventeen-year stint at the Met drew over a million visitors a year and garnered her every imaginable award in the fashion industry, including the coveted French National Order of France.  Perhaps this gave credence to her statement "The best thing about London is Paris." How she could coin a phrase!
This oracle of fashion, this maker of myth, withdrew from the public eye in 1986. She was suffering from emphysema and macular degeneration, leaving the visionary Dee-Ana blind. "The last details of any story are never satisfactory," she was once quoted. In August of 1989, Diana Vreeland had a heart attack and died. To be so committed to telling us that yes, YOU can create your own style, your own flavor, be it spicy or sweet. She will forever remind us that it's not the dress but what's in the dress that matters. Thanks Mrs. Vreeland! All we have to say is PIZAZZ!!
---