A Fab Look and Brief History of the Butterfly Chair
"It's an impossibly improper chair," says Juliet Kinchin, MOMA's current design curator. "A rejection of the hard-edged kind of modernism in the 1930s". Divinely slouchy and truly about comfort, the Butterfly Chair, aka the 'Sling Chair' or the 'Hardoy Chair', was the dream child of three assistants who met in Le Corbusier's Paris atelier: Jorge Ferrari Hardoy, Juan Kurchan, and Antonio Bonet. These three friends then created the Argentinian architecture firm Grupo Austral and produced the first Butterfly Chairs in 1938.
This easy going, hammock styled chair does have a fascinating historical footnote though. The Austral Group actually drew upon a much earlier version of the Butterfly called the Tripolina Chair, designed and patented by British engineer Joseph Fenby in 1877. The Tripolina Chair was actually created for use as a campaign chair and subsequently became a British battlefield favorite simply because it folded and could be moved quickly in the winds of war.
A stimulating conversation always exists in the economic and social marrying of fashion and home decor. With the drums of war sounding in 1930s Europe and America's involvement in what was to become World War II, women en masse were taking positions in businesses and industries, replacing the very men who were off at war. The staid mores, behaviors and fashion restrictions of antiquated Victorian and Edwardian values were beginning to crack. If women were working in war plants, factories, and farms, dresses became impractical. Women needed to experience the freedom of movement and flexible posturing.
It was at this time that Coco Chanel, the doyenne of fashion, began designing trousers for women. Hollywood icons Kate Hepburn, Greta Garbo and Marlene Dietrich were causing uproars by donning trousers in their 1930s films. Clothing was perceived as a manifestation of one's gender. Surely there was something wrong with these women - so much so that 'women could be and were arrested if they wore pants in public - detained for "masquerading as men"'. The gist of all this is that the public was rejecting the prim and proper predilections of their parents. They wanted practical, functional and attractive. No more being weighed down. This philosophy was reaching into furniture design. No one wanted their mother's stuffy, uncomfortable horsehair chair any longer.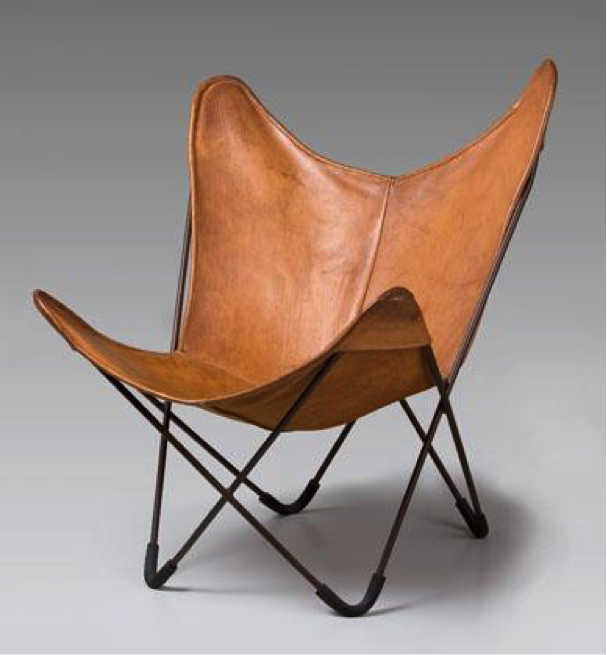 ---
At a 1940 design exhibition in Buenos Aires, the Butterfly enthralled the eye of Edgar Kaufmann Jr., the then curator of industrial design at MOMA. What inspired Kaufmann most was the power of the Butterfly's concept of 'good design'. The chair was functional, graceful, lightweight and modestly priced. He purchased two, one for MOMA's collection and one for his parent's newly designed Frank Lloyd Wright house, the now famous 'Fallingwater'.
By 1947, the Butterfly Chair was being mass-produced in the U.S. by the Artek Company. This chair, composed of two bent tubular steel rods welded together, became a national phenomenon, selling more than 5 million by the mid-1950s. Originally produced in leather seating, mid-century aesthetics saw the rise in creating the chair coverings in bright canvas colors and patterns, a sign of the optimistic mood and economy of the post-war era. The Butterfly Chair continued to rise in popularity and became a standard in the late '60s and early '70s counterculture movement. It was flexible, laid back, and could be hand painted or purchased with flower power prints, peace symbol prints - literally anything that expressed who you were in the world.  
The early 21st century brings this moveable feast of a chair to new couture heights. We invite you to view our showcase of luxurious Butterfly Chairs created in hand sewn, gorgeous natural and tobacco tanned leathers, or the most beautiful and softest of furs available.
---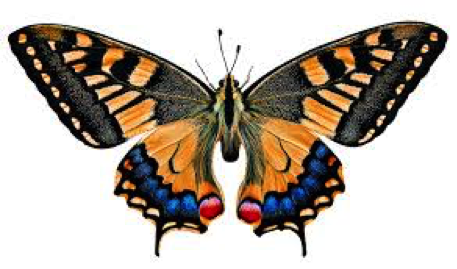 ---