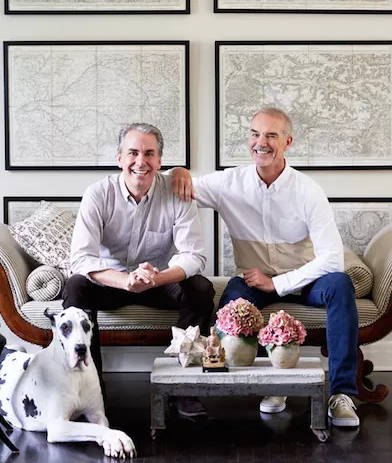 Geoffrey Ross (left) and John Dransfield pictured in their home with their beloved dog, India. Photographed by Manuel Rodriguez
We are so pleased to have John Dransfield and Geoffrey Ross as the Creative Directors for Modern Relik. Prior to their arrival, they were designers behind a twenty five year old collaborative that encompassed interior, product, textile and fashion design.
After studying at New York School of Interior Design, Geoffrey Ross' early career focused on textile design for the home furnishings industry. He created acclaimed textiles for Scalamandre, Quadrille and Nobilis in Paris amongst others. His textile designs are featured in the permanent collection in the Musee Des Art Decoratifs in Paris and Jack Lenor Larsen's Longhouse Reserve in East Hampton, NY. John Dransfield studied fine art at the Herron School of Art in his home town of Indianapolis. After graduating with a degree in fine art, John went on to continue his studies at the Fashion Institute of Technology in New York. John's love of fashion was evident as the award winning design director of several trend driven fashion houses. Coinciding with his love of fashion, John continued with his skills as a fine artist which is actualized in his breathtaking illustrations.
Recognizing a shared zeal for design and a like minded visual dialogue, the two joined forces and have since realized their symbiotic relationship has proven to be be greater than the sum of it parts. Individually they bring their unique yet fungible perspectives to the design process. In tandem they have designed for Donghia, Tiffany and Co., Ralph Lauren, Willams Sonoma, Anthropolgy, Sunbrella and Ethan Allen. They have had pop up shops featuring their products in Barneys New York, Bergdorf Goodman, Saks Fifth Avenue and Neiman Marcus. Their design philosophy includes the credo "Before we can put our name on a product it must be a design we would welcome into our own home". Their interior design work has been featured in numerous books and magazines including their own home being featured on the cover of Elle Decor.
John & Geoffrey's distinctive and idiosyncratic style is anchored in their encyclopedic knowledge of the decorative arts and continues to be informed by their travels through over 40 countries at last count.